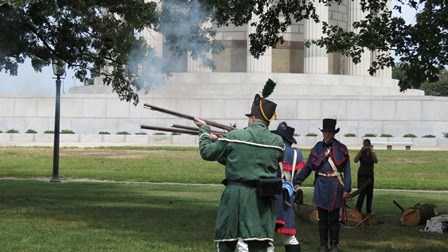 To celebrate National Junior Ranger Day, George Rogers Clark National Historical Park, in partnership with William Henry Harrison's Grouseland, will offer youth the chance to "Go Wild" for history at School of the Soldier Day. On Saturday April 26 from 12-4 PM, youth will have the opportunity to experience the challenges of soldiers and families on the homefront in the War of 1812 through a variety of hands-on activities. Activities will be held at both the George Rogers Clark NHP Visitor Center and Grouseland.
Members of the United States Rangers, Captain Andre's Company and the 1st United States Regiment of Rifle will be at the visitor center that day. Activities at the visitor center will include 18th century musket, rifle, and artillery demonstrations, and the opportunity to learn how to load a cannon. Youth will also also have the chance to "join" with the army and try on parts of an 1812-era soldier's uniform. Re-enactors will also demonstrate 18th century cooking and show what the average soldier received as a ration.
At Grouseland, youth will experience life on the homefront during the 1812 period and see how families on the frontier made clothing by loom, making candles, and will have the chance to meet authentic Native American re-enactors!
At the end of the event, youth will have the chance to earn their official Junior Ranger badge!
If you have any questions about the event, please contact George Rogers Clark National Historical Park at 812-882-1776 ext. 210 or Grouseland at 882-2096. Hope to see you there!