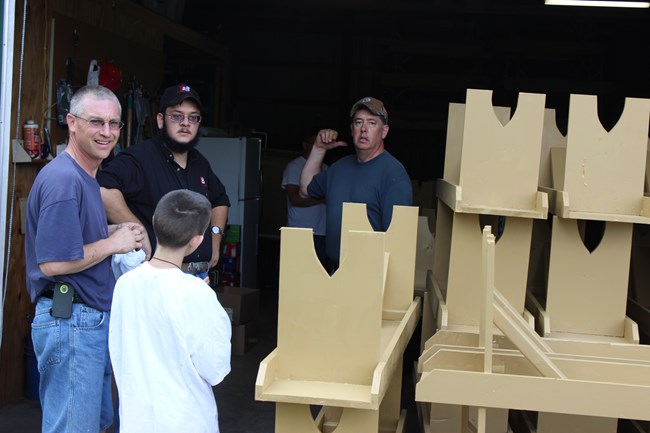 Boy Scouts
Being a Scout Ranger allows you to go out and explore your national parks. Whether you are visiting a natural park like the Grand Canyon or a historical park like George Rogers Clark National Historical Park, we hope you will learn something about yourself and these sites. Being a scout ranger allows you to:
-Learn about the mission of the National Park Service
-Help protect America's cultural and national treasures
-Explore the over 400 national parks in the national system
You can also earn a certificate or patch for becoming a scout ranger!
To earn a certificate, scouts must:
-Participate for five hours in a volunteer/educational project at George Rogers Clark NHP or any other national park unit.
-Help out at the annual Spirit of Vincennes Rendezvous, Muster on the Wabash, or other local events.
Volunteer projects for scouts at George Rogers Clark include:
-Participating in the annual 4th of July cleanup with local boy scout troops
-Participate in the park's annual Summer Junior Ranger Series and help with the activities during at least one of the summer events
-Other projects are available, simply come and talk to the ranger staff!
Education Programs include:
-Attend a living history program at the park, including, the park's annual George Rogers Clark march in February and/or a long rifle demonstration at the park
-The ranger staff can also come to you and do a program for your scouts as well!
To earn the patch:
-Scouts must participate for ten hours in an educational/volunteer project. Examples of these projects are listed above.
For more information about the program, please contact the ranger staff at George Rogers Clark. The park's phone number is 812-882-1776 x. 207.