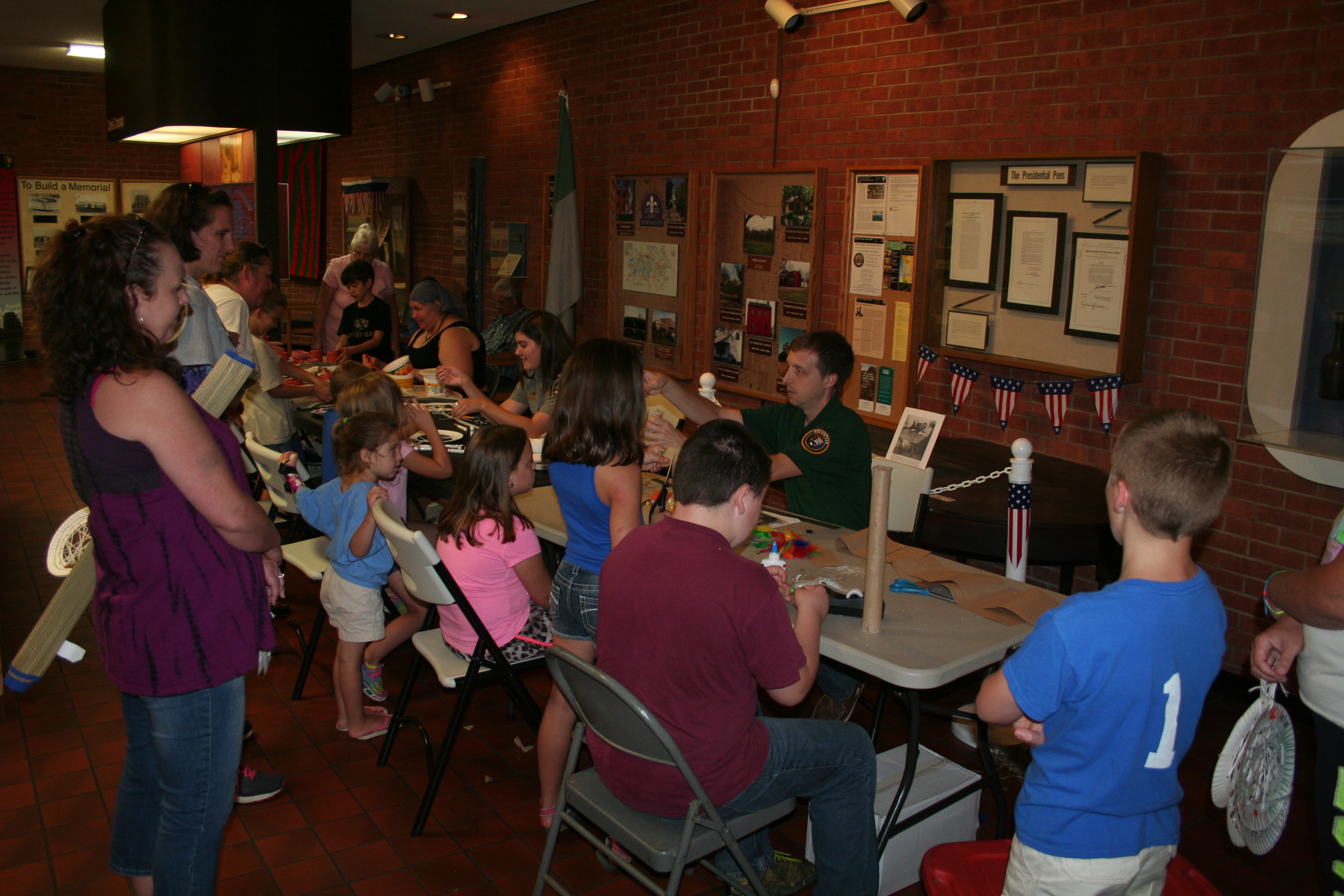 Find Your Park at George Rogers Clark National Historical Park! This summer promises to be filled with new and exciting events at George Rogers Clark National Historical Park (GRCNHP). The park is open seven days a week from 9 am until 5 pm (ET). The memorial closes at 4:45 pm. Entrance is free as are all of the programs listed here. For this year's events click here.
Saturday April 22 - The Many Hats of a Ranger Day - Enjoy a day filled with fun hands-on activities for kids of all ages, as we celebrate National Junior Ranger Day. Junior Rangers will have an opportunity to see the many hats worn by park rangers and park volunteers! They will be able to play 18th century games and join Clark's militia. Elements of the ranger's uniform will be available for trying on, including the iconic flat hat. Musket and rifle demonstrations will be conducted throughout the afternoon, and so much more! Come and join the fun! The program runs from 1-4 PM at George Rogers Clark NHP.

Saturday June 24 and Sunday June 25 - Three Forts Days - The second Junior Ranger event, Three Forts Day, will be a two-day event focused on the three different forts built inside what is now GRCNHP (French Post Vincennes, Fort Sackville, American Fort Knox III). The story of Vincennes goes all the way back to 1732 with the establishment of a fur trading post on the grounds of George Rogers Clark NHP. That story continues even today! The event features re-enactors portraying units stationed in Vincennes during the French and Indian War, Revolutionary War, and War of 1812 periods. Units portraying French marines and Spanish regiments in the area will also be on hand. Historic weapons demonstrations will be offered throughout the weekend.
Activities throughout the day will include performances by the Voyageur Fife and Drum Corps, which is a youth fife and drum corps out of Lafayette, Indiana. They will be on site both days offering period music and demonstrating their instruments. Discover more about Native American Culture in the region with Jessica Eaton of the Woodland Indian Education Program. Come and decorate your own Native American sleeping mat! In addition, kids can join the militia and experience life on the frontier for a soldier and see what they ate, how they dressed, etc. Junior Rangers will also discover how soldiers constructed forts using 18th century tools, play 18th century games and so many other fun activities!
The event will take place at the GRCNHP Visitor Center at 401 S. 2nd St. in Vincennes on Saturday June 24 from 11-4 PM (EST) and Sunday June 25 from 11 am until 3 PM (EST).
The next Junior Ranger Series event will take place on Saturday July 15 and is entitled "Natural Resources Day" and will take place at GRCNHP from 1-4 PM EST. All events are open to the public and are free of charge.
Saturday July 15 - Natural Resources Day (at Ouabache Trails Park) - Explore the natural resources of the outdoors and what different local groups do to protect them. Conservation officers from the Indiana Department of Natural Resources, a representative from Knox County Solid Waste, and rangers and volunteers from the George Rogers Clark NHP will offer a variety of hands-on activities! The program runs from 1-4 PM

Saturday August 19 - Archaeology Day
This event encourages junior rangers to "get their hands dirty" and experience the field of archaeology. Activities for the day include:
-Participating in a "mock" dig to find objects from ancient cultures
-Finding out what an archaeologist does
-Learning to use ancient tools like an atl-atl
-Playing games prehistoric people invented
-Making your own clay pots
-And much more!
Saturday September 30 - Astronomy Night - Ever look up at the sky and wonder about the stars and the planets? People have been staring at the sky and wondering the same thing for generations. Come to the park and see how to look for stars in the night sky, along with many other exciting activities. Program runs from 6:30 pm until 9:00 pm.