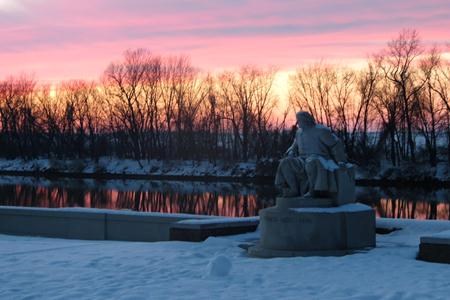 Vigo was born December 3, 1747, in the town of Mondovi in what is now northern Italy. Little is known of his early life until he joined a Spanish regiment and was sent to New Orleans, then a possession of Spain. After his discharge, Vigo entered the fur trade. By 1772, he was established as a merchant and trader in St. Louis in Spanish Upper Louisiana. Later, as a business associate of Spanish Lieutenant Governor Fernando de Leyba, Vigo was quite successful trading among the area's Indians and French settlers.
During July 1778, George Rogers Clark and his force of 180 frontiersmen captured British-controlled but French inhabited Kaskaskia and Cahokia across from St. Louis. Vigo, in St. Louis, decided to support Clark and the Americans by furnishing them with supplies from his own stores. In making this decision, Vigo no doubt was influenced by the assistance being given the Americans by Governor de Leyba. Vigo also loaned Clark money to pay the local inhabitants for needed goods. Vigo's visible assistance was noted by the French and further solidified their support behind Clark.
During December 1778, Vigo was taken prisoner by the British in Vincennes and was held for several weeks. Vigo was released upon the condition that on his way back to St. Louis, he do nothing that would harm the British cause. Vigo complied with the letter, if not the spirit, of this agreement by first returning to St. Louis before starting out for Kaskaskia to report to Clark. Arriving on January 29, 1779, he provided Clark with valuable detailed information on the situation at Vincennes. Vigo told Clark that the British intended to descend upon the Americans at Kaskaskia in the spring and that they would not expect the Americans to attack them at Vincennes during the winter. Clark later wrote of Vigo: "in sho[r]t we got Every Information from this Gentn [gentleman] that we could wish for as he had had good opportunities and had taken great pains to inform himself with a design to give intelligence...."