St. Louis: The way opened to the Pacific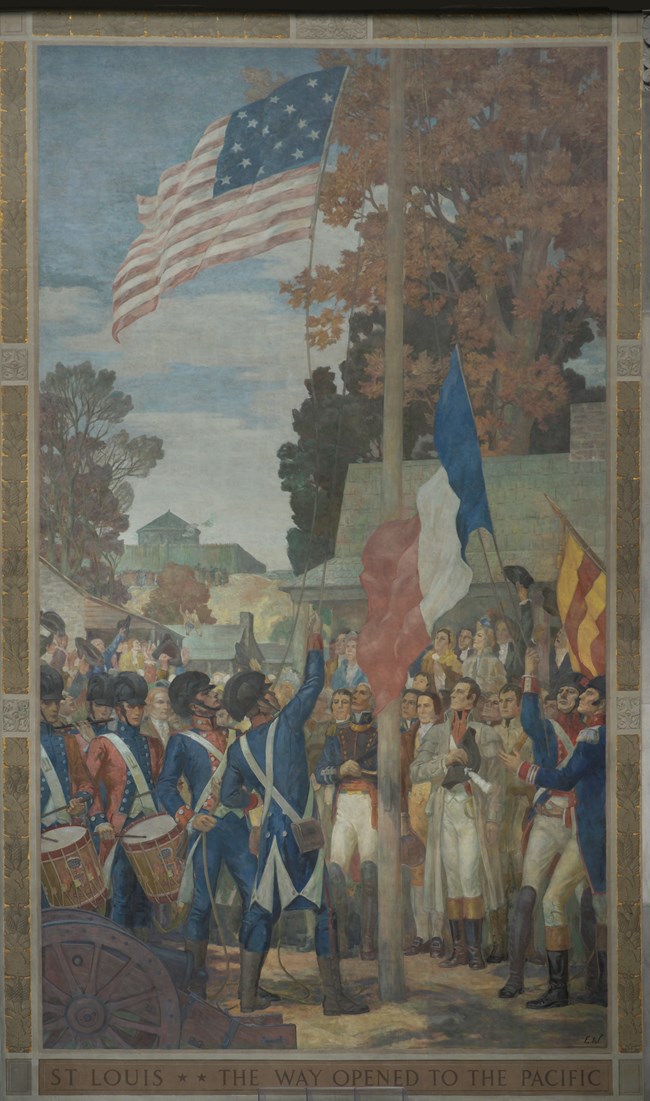 Following the settlement of the Northwest Territory, the nation continued its progress toward the Pacific Ocean with the purchase of the Louisiana Territory from France on April 30, 1803. On March 9 and 10, 1804, Three Flags Day was held in St. Louis to commemorate the history of the Louisiana Territory and to celebrate the official acquisition of this territory by the United States. Spain had been in control of this area since 1763 and in honor of that, the Spanish flag was flown for a while on March 9 until it was lowered to allow the French flag to fly. The French flag was left up overnight, and on March 10, 1804, the American flag was officially hoisted to symbolize this change in authority.

In this mural, Captain Amos Stoddard stands at attention with Meriwether Lewis standing to his left. Lewis was one half of the famous Lewis and Clark duo who led the Corps of Discovery expedition across the country to the Pacific Ocean. The other half, William Clark, was the younger brother of George Rogers Clark. Lewis and Clark still retain a reputation as the men who opened the nation to the ocean, and St. Louis still holds the reputation as the gateway to the west. However, had George Rogers Clark not been here in Vincennes in 1779, the chain of events that led to the Pacific would never have been set in motion. Without control of Fort Sackville, the British could have successfully argued for retaining possession of the land northwest of the Ohio River, and the United States might have ended immediately west of the 13 original colonies.

The actions of George Rogers Clark and his small force of frontiersmen who marched through the flooded and freezing wilderness in 1779, completely changed the course of American history. Their actions eventually enabled the new nation to continue its progress from sea to shining sea. As a quote around the ceiling states, "Great things have been effected by a few men well conducted."


Last updated: June 2, 2023