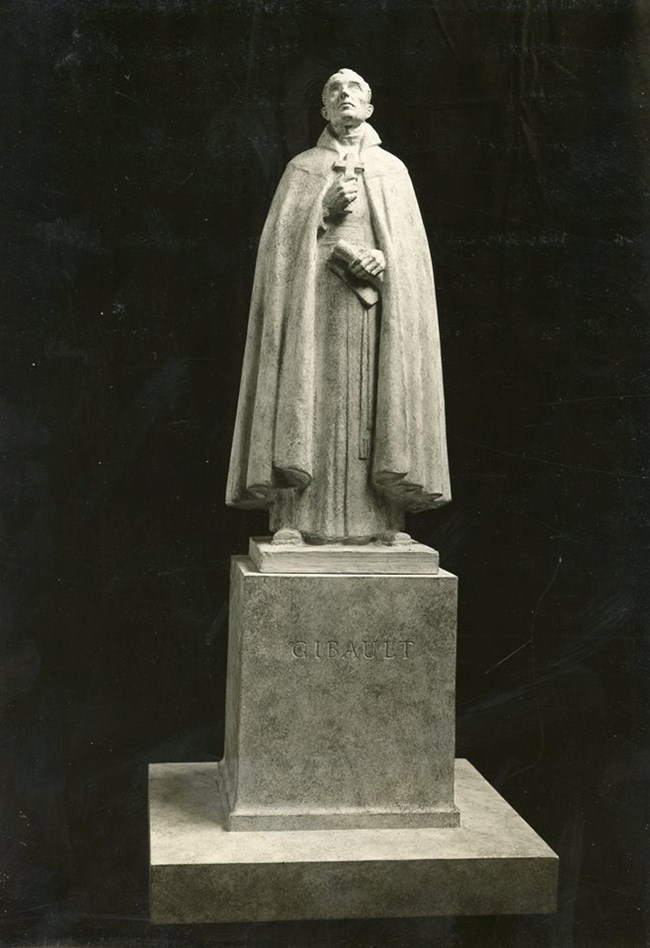 Albin Polasek, the sculptor of the statue of Father Pierre Gibault in front of the Old Cathedral. There was a debate as to whether or not the statue should be done in bronze or granite. Members of the Fine Arts Commission argued that the granite would hold up better over time and would give a stronger appearance. It would not lose it's color as much as the bronze would.
Polasek argued that bronze was the better choice because it kept with the old buildings in the area, particularly the Old Cathedral. He also advocated that since the statue was going to be done in a modest scale, subtle modeling could not be achieved as well in granite as it could in bronze. Advocates also argued that other bronze statues in similar climates, had aged well and retained their original colors.
In the end, the committee allowed Polasek to make the decision and he chose to commission the statue in bronze. Father Gibault today stands in front of the cathedral holding a cross in one hand and a scroll with the oath of allegiance for the townspeople of Vincennes in the other. Father Gibault and Dr. Jean Laffont brought this oath with them to present to the townspeople in July 1778.