Volunteer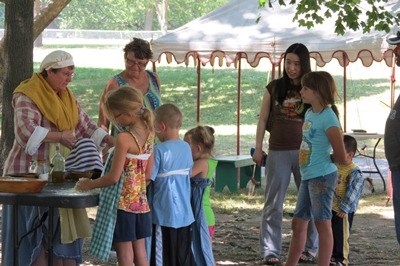 Visitors come to national parks from all over the world to experience the beauty and the splendor of "America's Best Idea." National Parks hold different meanings for different people. Every person finds a piece of himself or herself in these special places.
The protection of these sites always has relied on volunteers as a part of the park staff. Volunteers embody the passion and excitement for our nation's treasures and pass this enthusiasm on to park visitors.
About the Volunteer Program at George Rogers Clark NHP:
There is a myriad of rewarding opportunities awaiting you at your national park. Share your talents today! Volunteers are often the first contact that a visitor has with the park and its story by working at the visitor center Information Desk and the George Rogers Clark Memorial. The park is looking for enthusiastic and people-oriented volunteers to provide vital visitor services at the visitor center and Clark Memorial.
In addition, since Fort Sackville (which sat where the Clark Memorial does now) no longer exists, there are no visual clues to the battle. To revive this story, the park conducts living history programs to bring the 18th century to life. The park is recruiting for interested volunteers for the information desk at the Visitor Center and Clark Memorial, along with living history volunteers.
The park also conducts a variety of youth programming, including its annual Summer Junior Ranger Series, its partnership with the Knox County Public Library's Summer Reading Program, and providing living history programming to the thousands of school children that visit the park in its busy months of April, May, and October.
George Rogers Clark NHP will provide all necessary training for interested volunteers to perform any tasks. Who knows, you may find talents you did not know you had!
Anyone interested in volunteering at the park should contact the Volunteer Coordinator at 812-882-1776 or e-mail us


Last updated: April 10, 2015