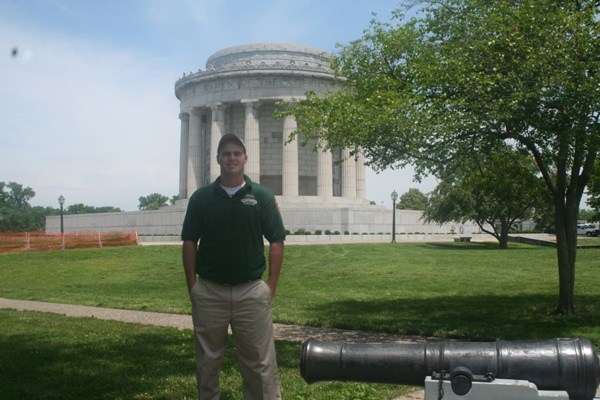 George Rogers Clark National Historical Park offers internship opportunities for undergraduate and graduate students. Intern positions support interpretation operations and educational programs in the park.
An internship with George Rogers Clark NHP provides an unforgettable, invaluable experience, and for many interns, the most rewarding summer of their lives thus far. Park interns work on the "front lines" of history by serving the public and sharing the past with modern visitors, fine-tuning both their research and presentation skills. Our internship program is an excellent opportunity for students and recent graduates to apply knowledge learned in the classroom, gain experience, meet professionals in the field, and often to determine which aspect of their chosen field is of greatest interest.
Qualifications
The park is looking for interns wanting to gain experience using the information they have learned in the classroom, learning more about their field of study, and gaining real world experience working for a federal agency.
The park wants to create an internship that fits your needs both academically and professionally. The park will offer on-the-job training to perform a wide variety of tasks within the national park.
Duties and Responsibilities
An internship can be designed around your specific needs and your major. These experiences can include the different facets of working in a national park such as running the site's visitor center, conducting historic weapons demonstrations, graphic design, and much more. The internship will also provide practical training for how a national park operates.
Dates of Service
Summer: June to August
Internships are full or part-time. We are willing to work around your school or work schedule, but we would like a minimum of 20 hours per week and a two-month minimum commitment.
Benefits for interns:
Experience working in your field of interest with the National Park Service

School credit from your college or university

Uniform shirts will be provided
Application Procedures
The park requires the following to be sent for applicant consideration:
Application Documents:
Cover Letter

Detailed Resume listing education, work experience, and other interests

Three references

An unofficial transcript
Mail, fax, or email materials to:
Intern Coordinator
George Rogers Clark National Historical Park
Mail to: 401 S. 2nd St. Vincennes, IN 47591
Fax: 812-882-7270
Email the Internship Coordinator
Please Note: Internship Applications are accepted on a continuous basis, and interested individuals are encouraged to submit their applications early. Interviews and selections for summer interns are ongoing in January and February, and after March 1st, potential applicants should contact the park to see if positions remain available before submitting an application.