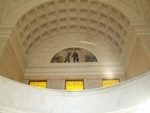 Public restrooms are available at the visitor center.
The mausoleum, constructed during the 1890's, does not have wheelchair access.
Eating, drinking, gum chewing, and smoking are prohibited inside the building.
Cell phone use is restricted; please silence your device(s) while in the building.
Personal photography is allowed. However, a permit is required for any filming
or commercial photography, or any activity with the potential to impact the
resources or other visitors within the boundary of General Grant National
Memorial. This includes the exterior space on the steps and the plaza. For more information please click here.