Schedule of Events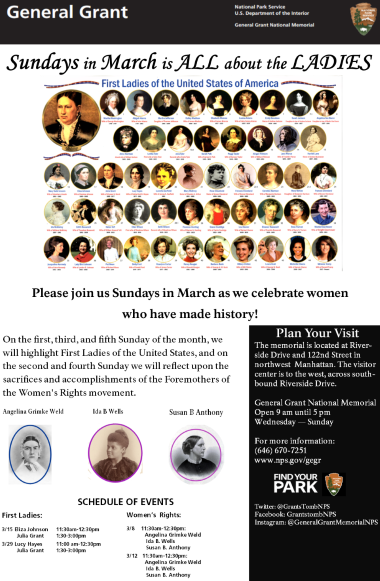 Womens History Month
March is ALL about the LADIES
March 15th, March 22nd, & March 29th
Please join us Sundays in March as we celebrate women who have made history! On the first, third, and fifth Sunday of the month, we will highlight First Ladies of the United States, and on the second and fourth Sunday we will reflect upon the sacrifices and accomplishments of the Foremothers of the Women's Rights movement

SCHEDULE OF EVENTS
All presentations will take place in the visitor center located on the southbound side of Riverside Drive west of the monument.
First Ladies:
3/15 Eliza Johnson 11am—12:30pm
Julia Grant 1:30pm– 3:00pm
3/29 Lucy Hayes 11:30am—12:30pm
Julia Grant 1:30 pm—3:00pm
Women's Rights:
3/22 Angelina Grimke Weld 11:30am-12:30 pm
Ida B. Wells
Susan B. Anthony

Download Flyer Here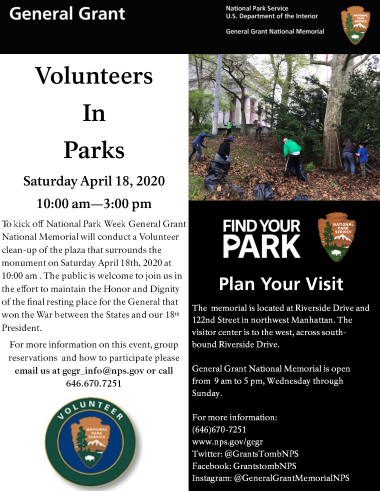 National Park Week Volunteer Clean Up Day
Saturday April 18, 2020 10:00 am to 3:00 pm
To kick off National Park Week General Grant National Memorial will conduct a Volunteer clean-up of the plaza that surrounds the monument on Saturday April 18th, 2020 at 10:00 am . The public is welcome to join us in the effort to maintain the Honor and Dignity of the final resting place for the General that won the War between the States and our 18th President.

For more information on this event, group reservations and how to participate please contact us at e-mail us or call 646.670.7251

Download Flyer Here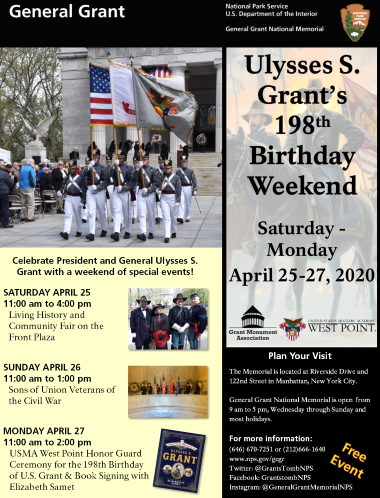 Ulysses S. Grant 198th Birthday Weekend Celebration
Saturday April 25th through Monday April 27th, 2020
Celebrate President and General Ulysses S. Grant with a weekend of special events!

SCHEDULE OF EVENTS
SATURDAY APRIL 25
11:00 am to 4:00 pm
Living History and Community Fair on the Front Plaza

SUNDAY APRIL 26
11:00 am to 1:00 pm
Sons of Union Veterans of the Civil War

MONDAY APRIL 27
11:00 am to 2:00 pm
USMA West Point Honor Guard Ceremony for the 198th Birthday of U.S. Grant & Book Signing with Elizabeth Samet

Download Flyer Here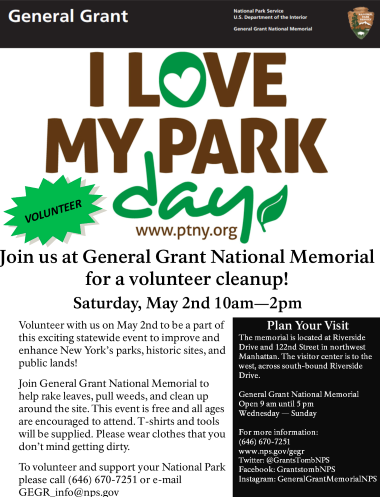 National Park Week: I love My Park Day
Saturday May 2, 2020 10:00am to 2:00pm
Volunteer with us on May 2nd to be a part of this exciting statewide event to improve and enhance New York's parks, historic sites, and public lands!
Join General Grant National Memorial to help rake leaves, pull weeds, and clean up around the site. The is event is free and all ages are encouraged to attend. T-shirts and tools will be supplied. Please wear clothes that you don't mind getting dirty.

To volunteer or support your National Park, please call (646)670-7251 or e-mail us at gegr_info@nps.gov or

Download Flyer Here


Save the Date for Other Upcoming Events
Memorial Day
Monday May 25, 2020 2:00 pm
Join us at the Mausoleum as we decorate the tomb with a laying of a wreath, to commemorate what was once known as decoration day here at the Memorial
Grant's Death Day Observance Ceremony
Saturday July 25th 2020 11:00 am
Over 1 million people attended the national funeral for Ulysses S Grant shortly after his death. Join the National Park Service as we remember the impact that that Grant's Death had on the American public in 1885. Ceremony will take place inside the Mausoleum.
Jazz Mobile: July & August 2020
Wednesday Evenings
Details to be announced
Great Day in Harlem:
Sunday July 26 2020
join us for our largest event of the year! See live Performances, food,
Battle of Harlem Heights
Saturday & Sunday September 12-13, 2020
Join us for special walking tours to explore the 1776 American Revolutionary War Battle of Harlem Heights that took place in the local area surrounding the Mausoleum over 100 years before its construction.


Search Filters
By Park
By State/Territory
By Event Type


Last updated: March 13, 2020