Things To Do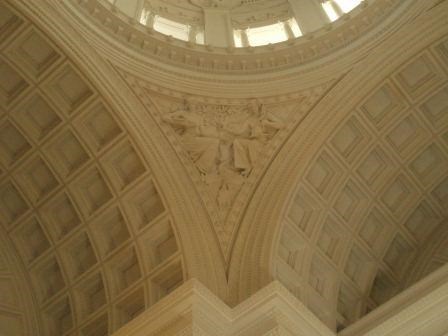 Visitor Center
Contains a permanent exhibit gallery addressing some of the major events in Ulysses S. Grant's life.
A bookstore/gift shop offers memorabilia and publications.
In the media room, a 20-minute film, Ulysses S. Grant - A Legacy of Freedom, is available to view.
Public restrooms are available here.
Mausoleum
This is the final resting place of President Grant and his wife Julia Dent Grant, and a solemn place for visitors to quietly reflect on his life and achievements.
Visitors are invited to explore this impressive stone structure on a self-guided basis. Rangers are available to answer questions.
The crypt area, holding two sarcophagi that contain the remains of President Grant and his wife Julia Dent Grant, are available for viewing.
Lifelike bronze busts of Grant's senior generals surround the sarcophagi in the crypt area.
Two reliquary rooms on the main floor contain American Civil War battle flags, surrounded by murals of maps denoting major engagements of the war.
Overhead, three large mosaic murals depict important scenes from Grant's military career.
Memorial Grounds
The plaza surrounding the mausoleum, and its adjoining grounds are a place for respectful contemplation of Grant's life and achievements, as well as an appreciation of the design and construction of the memorial.
A

series of tile-mosaic benches, inspired by modernist Antoni Gaudi and commissioned to commemorate the centennial of Yellowstone National Park,

surround the sides and rear of the mausoleum.
On New York City's Riverside Park, just north of the Mausoleum, visit the Li Hung Chuang commemorative plaque and ginko tree that a grateful China presented to Ulysses S. Grant's Tomb for the time that he helped prevent a war between China and Japan during his post presidency world tour.
Special Events
Check out our calendar for upcoming special events!


Last updated: March 8, 2020