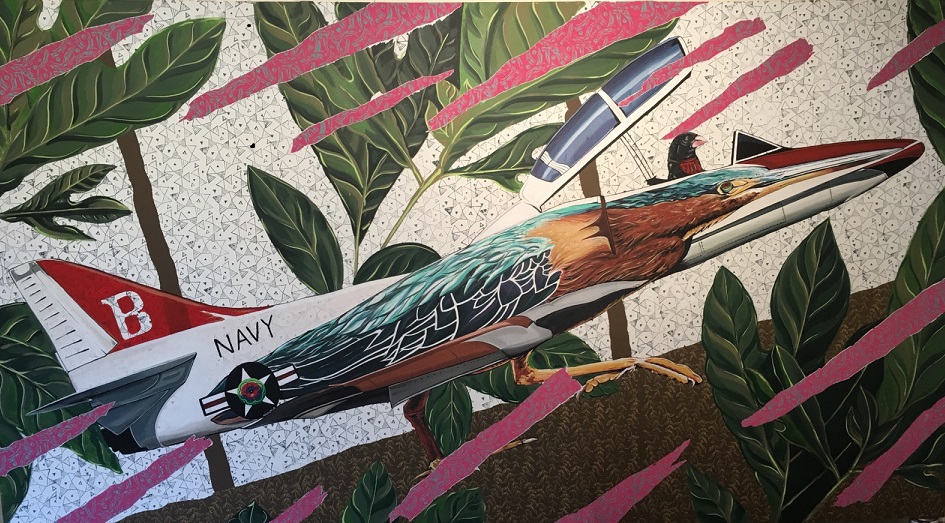 Artists Celebrate the National Park Service Centennial
Summer Arts Festival at Gateway
The Arts Festival opened Saturday, July 2 at Fort Tilden, and runs through Labor Day. The Gateway Photo Contest runs July 1-31.
Jamaica Bay: Fort Tilden Arts Festival Opening July 2: Rockaway ! Fort Tilden Beach: Katharina Grosse
Forbidden Fruit: Street Art In a National Park at Rockaway Artist Alliance Fort Tilden sTudio T7. Click here for a flyer for this event.
Avian Life in an Urban Jungle, Photo Exhbit by F. Portmann; Saving Jamaica Bay (excerpt) by Dan Hendrick opening July 10. (See below.)
Sandy Hook: Wednesday Beach Concerts. Sculptures at Beach Centers
See Summer Program Guide below for details on these and other programs and events.
Visitor Center Hours
Ryan Visitor Center, Floyd Bennett Field--Open seven days/week 9 AM to 5 PM.
Jamaica Bay Wildlife Refuge--Open seven days/week from 9 Am to 5 PM.
Fort Wadsworth Visitor Center--Open Wednesday--Sunday, 9 AM to 4:30 PM.
Fort Wadsworth Camp Office-- Open seven days/week 8:30 AM - 5:30 PM (camp staff available until 8 PM).
Great Kills Ranger Station-- Friday through Tuesday 9 AM - 4:30 PM closed 12:00 p.m. - 1:00 p.m. (permits available).
Miller Field Ranger Station - Sunday 1:00 p.m. - 3:00 p.m. (permits available)
Sandy Hook Lighthouse Keepers Quarters/Visitor Center--Open seven days/week 9 AM - 5 PM.
Summer Program Guide
Here is the Summer/Centennial Program Guide for June, July, August, which contains all the programs and events. It's big, so it might be slow in loading, have patience.
We regret that Hangar B remains closed for further repair, so the programs listed in the Program Guide will not occur until this work is completed. For Staten Island we regret the arrival of the goats has been delayed, so those programs will not occur until the animals arrive. The Goat Beauty Contest, originally scheduled for August 21, has been cancelled.
Also the Sandy Hook Beach Campfires originally scheduled for August 19 and August 26 have been cancelled.
Gateway Summer Program Guide (All three geographic units included here).