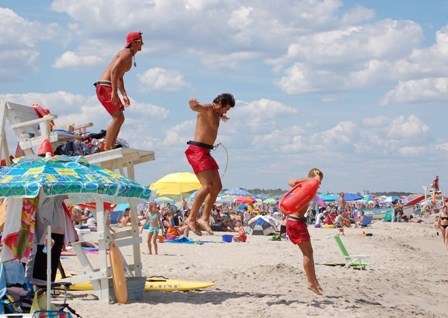 Your safety is our highest priority
Visitors, employees and park partners deserve to be safe when visiting a national park. Our staff works hard to make your visit both safe and enjoyable. Knowing how to stay safe will help you and your loved ones to enjoy your visit to the fullest.
Beach safety
Swim only at lifeguard-protected beaches during lifeguard hours. Gateway's lifeguards protect certain beaches from 10 A.M. through 6 P.M. Other beaches do not have lifeguards. Be alert for strong ocean currents, powerful waves and underwater obstacles. If you cannot swim, please do not go into the water. Before you go to the beach, learn how to deal with rip currents. Keep children within easy reach. Be aware of changing tides and weather conditions. Watch for unexpected large waves that wash further up the shore. NEVER TURN YOUR BACK ON THE OCEAN !
Tell your kids about water safety
It is never too young to begin learning how to have fun and be safe around the water. Web rangers can learn about water safety here.
See this video!
Here is a water safety video featuring our 2015 Student Conservation Association interns Roger Torres, Marlen Paredes and Richard Llanos. Although it focuses on Sandy Hook Unit, the message is just as fresh for all beaches at Gateway. Here's the video en Español.
General safety
Wear sunscreen. Drink water, and bring water when walking around Gateway. Wear the appropriate foot wear and clothing for your activity. If you or someone you are with needs emergency help, please call 911 or if at Sandy Hook, 718-354-5970.