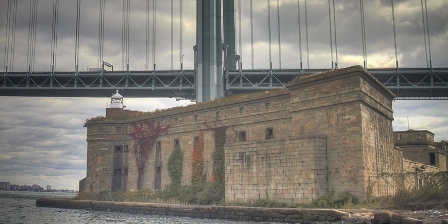 News Release Date:
May 13, 2015
Contact: Daphne Yun, 718-354-4602
I With summer just around the corner, Gateway National Recreation Area (Gateway) is ready for another great year ahead. Numerous educational and recreation programs are planned, and projects that enhance storm recovery and resiliency, improve facilities and strengthen infrastructure are underway.Additionally Gateway provides visitors with an array of activities, services and new food and beverage options.
"Gateway continues to move forward in an exciting direction" stated Jen Nersesian,superintendent of Gateway."We have repaired damages from Sandy and after years of thoughtful input from the community, we get to implement the 2014 General Management Plan."
Gateway's General Management Plan is being implemented via a strategic planning process to prioritize projects over the next five years.Two of the leading topics are transportation and increased camping experiences.The park will improve ease of access for local and out-of-town visitors.Gateway also provides New York City with the nation's "largest urban campground" and allows visitors to have increased opportunities for a wilderness camping experience in NYC's back yard.The park has partnered with many localstakeholders to achieve these goals and working closely with its friendsgroups, which include the NationalParks of New York Harbor Conservancy, the Sandy Hook Foundation, and the Jamaica Bay- Rockaway Parks Conservancy.
"The Jamaica Bay-Rockaway Parks Conservancy (JBRPC) looks forward to further collaboration with the National Park Service to expand public access to the extraordinary open spaces of Jamaica Bay," said Tom Secunda, chairman of the board of the JBRPC."Our longstanding partnership became even more critical in the wake of Superstorm Sandy and wewill continue working together to make Gateway National Recreation Area the nation's greatest urban park for local communities and visitors alike."
"We look forward to new partnerships that will helpGateway become a place where people not only fish and sunbathe but also whereimportant research about climate change and invasive species removal takes place" added Nersesian.
Hurricane Sandy recovery continues;one of the most visible projects currently being contracted is the work on the Bathhouse at Jacob Riis Park. The work is designed with an eye to making the Bathhouse more resilient while meeting the operational needs of the 21st-century visitor.The park will also complete additional repairs of the seawall at Jacob Riis Park. Two other key recovery projects will be completed in the park's two other units;at the Staten Island Unit a new maintenance facility will be built at Miller Field, and at the Sandy Hook Unit, in New Jersey, a new sewer facility plant will be constructed.
The Jamaica Bay Unit's West Pond Environmental Assessment is under way, and the park's stakeholder groups are engaged and encouraged to participate in the feedback process.A draft Environmental Assessment plan is expected to be ready for public release in June.
As the National Park Service (NPS) looks toward its Centennial in 2016, Gateway is putting together creative new ways to invite people to the park and to be part of the NPS's next 100 years. There will be different ways to experience Gateway through artistic expression, and rangers are already laying the groundwork for a pollinator garden at the Jamaica Bay Wildlife Refuge. Thepark is also continuing outreach to local schools and communities through the summertime Eco-Life program.In addition, the park is continuing its partnership with the Student Conservation Association through Your Park! Your Health! This program pairs the park with youth interns who work to connect Gateway with new and diverse audiences, especially the younger generation, to ensure that Gateway provides relevant and meaningful educational and recreation opportunities now and in the years to come.
"We want to create meaningful connections between our neighbors and the park, and invite you to attend one of our programs,"Nersesian said."Walk on one of our paths, and share your experience at FindYourPark.com.Or become a volunteer and help us protect this place that is so special to so many of us. Together, we can truly make the Gateway experience the great way to 'Find Your Park'."
About Gateway National Recreation Area
Established in 1972, Gateway National Recreation Area offers more than 26,000 acres of
marshes, wildlife sanctuaries and recreational athletic facilities, miles of sandy beaches;indoor and outdoor classrooms;picnicking and camping areas, as well as historic structures and military installations, airfields, a
lighthouse, and adjacent waters around New York harbor. The park offers urban residents in two states a wide range of recreational opportunities year round. Gateway is one of the ten most visited national parks in the country. For information about Gateway's upcoming public programs, see the park's Web site
at https://www.nps.gov/gate/index.htm.To join the conversation about Gateway, like us on our Facebook page www.facebook.com/Gatewaynps.
--NPS--