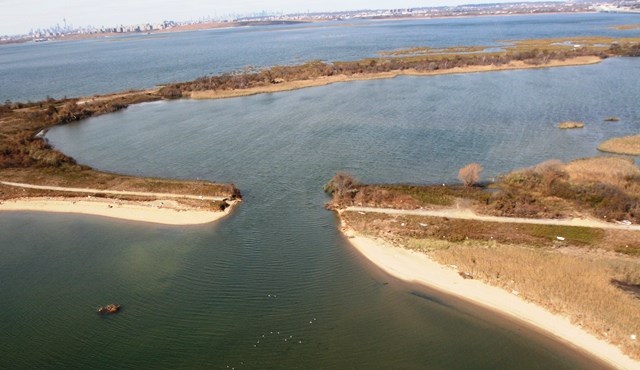 Unit programs
The campgrounds at Floyd Bennett Field have been reconstituted and camping is open for the season. Sailing, kayaking, and other recreational/interpretive programs have been planned and are being coordinated in conjunction with the New York City Department of Parks and Recreation.
Plumb Beach
Plumb Beach will remain closed through the season due to the Army Corps of Engineers construction work (construction of two rock groins to trap sand, and a wave attenuator to prevent wave action from quickly re-distributing deposits.
Bergen Beach
The Jamaica Bay Riding Academy is open and hosting clients and horses.
Canarsie Pier
Opened to the public on May 20.
Frank Charles Park
Frank Charles Park was one of the first sites to open after the storm, and facilities there are in fair working order. Additional work is scheduled to repair the children's spray park as well as the lights.
Jamaica Bay Wildlife Refuge
The Jamaica Bay Wildlife Refuge was one of the earlier sites to open after the storm. However, the West Pond remains breached, and the NPS is still in the planning stage to find a proper solution to the problem. This may include careful replacement of the dike, and probably draining the salt water in the pond to restore it to a fresh water pond that can support the bird population. We will be consulting with scientists through the Environmental Assessment process.