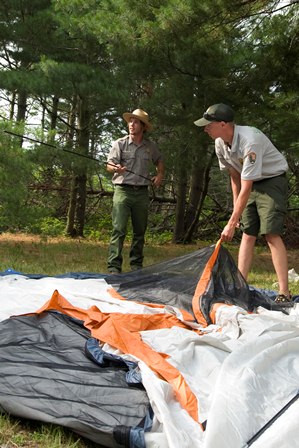 News Release Date:
August 20, 2015
Contact: Daphne Yun, 718-354-4602
The National Park Service is turning 99 years old on August 25 and Gateway National Recreation Area (Gateway) wants you to join the party!  We will begin our festivities on Sunday, August 23 at 11 am at Riis Beach, near Bay 9.  Come by and learn trivia about the National Park Service (NPS), take a photo at our Find Your Park (FYP) Photo Booth and participate in a beach scavenger hunt.
The celebration continues on Tuesday at Sandy Hook, NJ and Fort Wadsworth, Staten Island.  Take part in NPS themed games and activities at the Sandy Hook visitor center.  Cake and refreshments will be served from 10 am - 3 pm.  At Fort Wadsworth, Staten Island, you can learn how to use a net to fish, roast marshmallows at a bonfire on the beach and camp overnight.  Fort Wadsworth activities begin at 2 pm.  call 718 354 4655 for reservations for the Fort Wadsworth camping program.
In preparation for next year's big centennial celebration, the National Park Service is inviting everyone to Find Your Park.  Don't know where to start?  There is a fun list of 99 ways to Find your Park.  Gateway is a great place to be a Citizen Scientist (#24).  A Bio Blitz, or 24 hour event to catalog animal and plant species, will be held at Sandy Hook on September 18 and 19.  You can also Recognize Women Who Made History (#70) by heading to the Ryan Visitor Center at Floyd Bennett Field and learning about the many female aviation pioneers who flew there.  In addition, visitors can share their park experiences with others by posting on social media with the hashtag #FindYourPark.
"Birthdays are a time to celebrate, and we want everyone to join the party", said Gateway Superintendent Jen Nersesian.  "Gateway offers something for everyone, so I invite you to visit and Find Your Park."
On August 25, 1916, President Woodrow Wilson signed legislation to create the National Park Service. Today there are 408 national parks throughout the country and each one tells an important part of the American story.  Some commemorate notable people and achievements, others conserve magnificent landscapes and natural wonders, and all provide a place to have fun and learn.  And, on August 25, all national parks will offer free entrance for everyone.
Gateway was established in 1972 as one of the fist national parks for city dwellers.  Last year, more than 6 million park visitors enjoyed the site and added $143.8 million to the local economy, which supported 1,700 jobs.
The mission of the National Park Service also extends beyond park boundaries. Community partnerships help preserve local history and create close-to-home recreational opportunities.  To see what is happening in New York and New Jersey, go to www.nps.gov/NY and www.nps.gov/NJ.
About Gateway National Recreation Area
A large diverse urban park spanning two states, Gateway combines recreational activities with natural beauty, wildlife preservation, military history and more.  Visitors can hike, picnic, swim, sunbathe, bike, visit the oldest lighthouse in the nation, see an airplane collection and camp overnight, all in the New York metropolitan area.  Gateway is one of the ten most visited national parks in the country.  For more information about Gateway's public programs, see the park's Web site at www.nps.gov/gate.  To join the conversation about Gateway, like us on our Facebook page at www.Facebook.com/Gatewaynps.