Journal Entry #3: March 20, 2011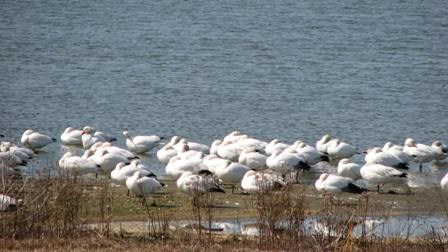 Today at the Jamaica Bay Wildlife Refuge I only logged in one bird. This bird was called a song sparrow. Song sparrows are small birds that have dark black streaks on their chest. Song sparrows like to live in pastures. They lay about 3-6 pale green eggs. The song sparrow breeds from South California to North Dakota. In the winter they range from South Canada to the Gulf Coast and Mexico.
I think what is happening is the migration. The birds are moving north so there may be different birds coming to the wildlife refuge. Another possibility is that the birds maybe found another food source.
The image seen here is of snow geese sleeping on the West Pond. They will also be migrating north in the spring. - Taylor Ramos
Journal Entry #2: March 13, 2011
Journal Entry #4: March 27, 2011
Journal Entry #5: April 3, 2011
Last updated: February 26, 2015