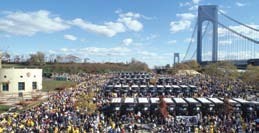 Imagine that you are planning a trip for summer vacation. You consider many different places, and then you choose a destination that meets your vacation needs and goals. To reach your destination without getting lost, you identify a route and use a map to get there.
Planning for the future of Gateway is much like taking that trip: we choose a destination and then develop a roadmap to get us there. The foundation for decision making in the National Park Service comes from the park's General Management Plan (GMP). A GMP is the roadmap that lays out a vision for where the park wants to be and provides directions for getting there over the next 20 years. Planning for this adventure begins with reminding ourselves why this park is important. In Gateway's GMP, we'll take a look at the reasons Congress created this park to ensure that we have the right destination. Next, we'll explore some of the challenges facing the park today and ask you for your ideas and opinions. A is a brief description of some of these challenges. Your suggestions and comments will help us to create a vision for what kind of place we want Gateway to be in the future.
Once we have a vision for the future for the park, we'll explore different possible ways of getting there. These various options, or alternatives, will lay out ideas for how the park will protect natural areas and historic sites. It will offer different kinds of recreation and education experiences, and explore ways we can collaborate with others to make this vision a reality.
Along the way, there will be many opportunities for you to make your voice heard. General management planning offers an open, structured decision making process that encourages and considers ideas and comments from many different people and groups. These ideas and comments are matched with scholarly and scientific information and analysis. The GMP must also comply with the National Environmental Policy Act (NEPA). This means that impacts to the social, cultural and natural environments in the park and surrounding areas will be taken into consideration. All of the ideas, options and impacts for the future of the park are presented in a written document that will be available for you to read and make comments on. After all comments are received and considered, together, we will choose the best future for the park.