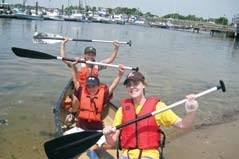 One of the goals of the General Management Plan (GMP) is to create, build and nurture long-lasting relationships among the park's diverse communities. Your ideas, expectations and concerns about the future of this park, as well as those expressed by other interested individuals, organizations and agencies, are important to us. We look forward to hearing from you and welcome other ideas that you believe the GMP should consider. Suggestions and comments will be collected at the Open Houses, through the website, and by sending a comment form to the park's address. Other ways to keep involved with the GMP include:
• Stay connected to the project by visiting this website and the National Park Service Planning, Environment and Public Comment website.
• Attend open houses and other park events.
• Share your ideas, questions and comments in person or online.
• Encourage your neighbors and friends to visit Gateway and to also become involved.