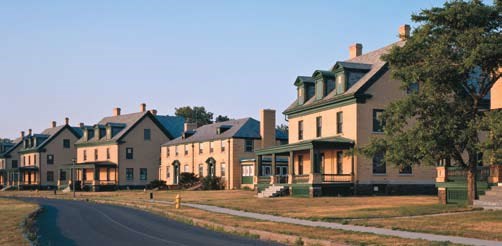 Significance Statements
Significance Statement I: Gateway contains an assemblage of coastal ecosystems formed by natural features, both physical and biological, that include barrier peninsulas, estuaries, oceans, and maritime uplands. The habitats that comprise these ecosystems, so rare in such highly developed areas, support a rich biota that includes migratory birds, marine finfish and shellfish, plant communities, and rare, threatened, and endangered species.
These features provide opportunities to restore, study, enhance, and experience coastal habitats and ecosystem processes.
Fundamental Resources & Values Related to Significance Statement I
• Beaches/dune system at Bergen Beach, Breezy Point Tip, Great Kills, Jacob Riis Park, Plumb Beach and Sandy Hook
• Natural Areas at Breezy Point Tip, Crooke's Point, Floyd Bennett Field, Great Kills, Hoffman & Swinburne Islands, Jamaica Bay Wildlife Refuge and Sandy Hook
• Jamaica Bay waters including inlets, submerged lands, Dead Horse Bay
• Sandy Hook Maritime Forest
• Beach experience including access to ocean surf
• Direct sensory experience with natural elements
• Public access to bay and ocean shorelines
• Experience of being out on the water
• Darkness and night sky
Significance Statement II: The park includes one of the largest and most complete ollections of military installations and fortifications in the country, dating from he Revolutionary Era through the 20th century. These installations served as the ilitary defense of New York, America's largest city. This long period of military resence has yielded one of the most extensive collections of historic military achitecture in the national park system.
Fundamental Resources & Values Related to Significance Statement II
• Coastal defense resources at Fort Hancock, Fort Tilden and Fort Wadsworth ncluding batteries, gun emplacements, buildings, collections and other ssociated structures
• Connections of national history
Significance Statement III: The maritime resources of Gateway include the first federally sponsored lifesaving station in the country and the oldest working lighthouse in the United States. These resources served to protect ocean commerce and enhance the safety of the busiest American seaport.
Fundamental Resource Related to Significance Statement III
• Maritime resources at Sandy Hook including the Lighthouse and Life Saving Station
Significance Statement IV: The vast and diverse park resources at the gateway to the most densely populated region of the United States provide an abundance of outstanding recreational and educational opportunities.
Fundamental Resource & Values Related to Significance Statement IV
• Historic landscape at Jacob Riis Park including the beaches, boardwalk, bathhouse and back beach area
• Feelings associated with open space in high density area
• Views of the frame of the Outer Harbor
• Undeveloped open space that is safe, designated and managed
• Parks to People story – federal government role and numbers of people in area
• Recreation experience including:
• Nature observation such as bird watching, contemplation of physical environment, quiet, astronomy
• Water-based such as surfing, boating, fishing and swimming
• Walking/hiking, biking and horseback riding on trails
• Picnicking
• Visiting of historic sites
Other important cultural resources not related to the purpose of the park
• Civil and military aviation history resources at Floyd Bennett Field and Miller Field
• Archeological resources