Fort Wadsworth's Third System Forts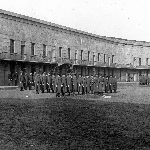 New York State owned the land and constructed fortifications on what is today Fort Wadsworth during the 2nd system of defense. The state and federal government took many years to transfer the property to federal hands. In 1841, New York gave the War Department permission to occupy part of the site and work began to replace or rebuild the 2nd system fortifications with 3rd system fortifications. In 1847, the land was finally owned by the federal government.
Fort Morton and Fort Hudson were the first fortifications to be modernized (1841-1842) and were renamed as Battery Morton and Battery Hudson. These substantial changes occurred before the federal government's purchase of the site and was supervised by U.S. Engineer Capt. Robert E. Lee. the upper gun platform was removed, and the lower one lengthened. Guns on site in 1851 included Battery Hudson's twenty-seven 32-pounders and Battery Morton's ten 32-pounders. More changes to the batteries occurred during the Civil War.
South Cliff Battery (1863-1866) replaced Battery Morton during the Civil War.
North Cliff Battery (1863-1867) was constructed during the Civil War.
A new Fort Richmond was constructed of granite between 1847 and 1862. Fort Richmond was renamed Fort Wadsworth in 1865. In 1902, the name Fort Wadsworth was applied to the entire post on the Staten Island and this structure was renamed Battery Weed.
A new Fort Tompkins was constructed of granite and brick. The plan was for Tompkins to protect Forts Richmond, Hudson and Morton as well as provide quarters for the troops. Fort Tompkins was the last of the 3rd system fortifications built at today's Fort Wadsworth.
The Civil War would change the post in many ways. The artillery in the fortifications changed as well as the manning of the forts. To learn about the site during the Civil War, click here.
New weaponry developed during the Civil War made the 3rd system fortifications obsolete. Fort Wadsworth was rearmed again in the Endicott Era of defenses.
Last updated: February 26, 2015