Visitor Centers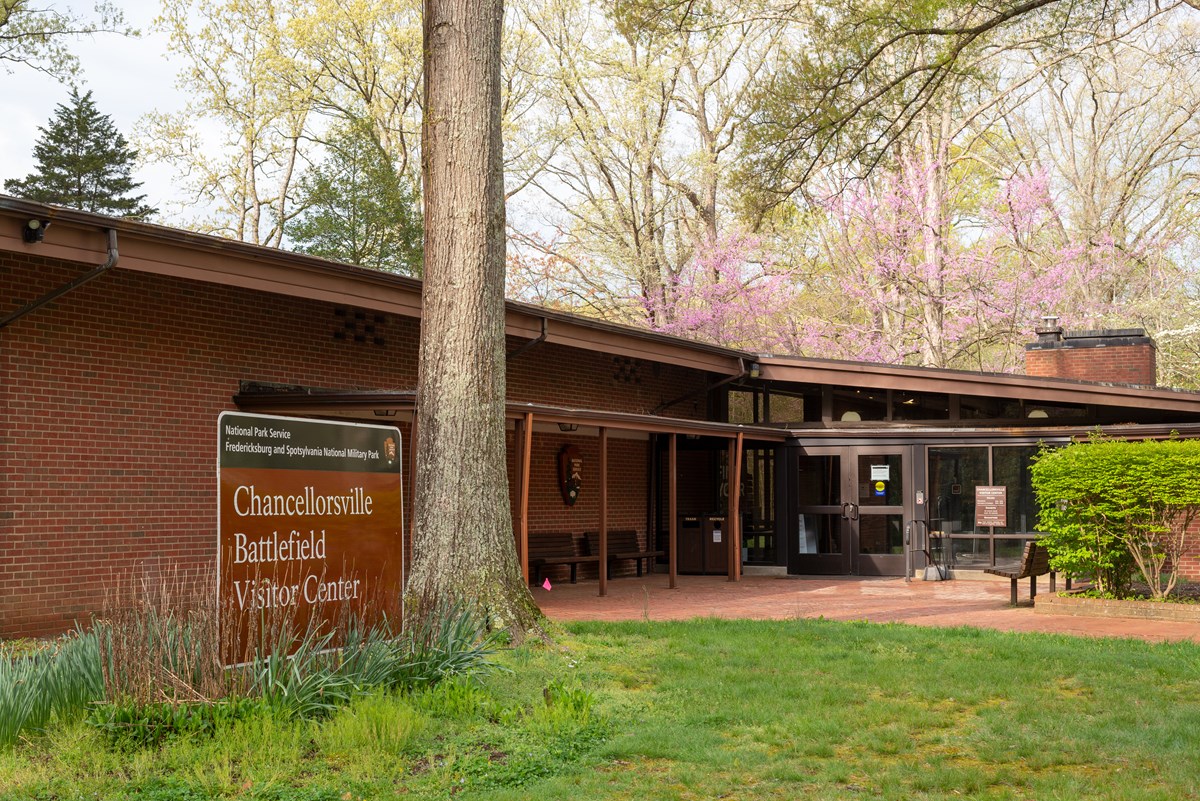 The park manages two visitor centers, one at the Fredericksburg Battlefield and one at the Chancellorsville Battlefield.

Visitor centers are open 9am-5pm, 7 days a week, closed select holidays, visit Operating Hours & Seasons for full schedule details.
Fredericksburg Battlefield Visitor Center
1013 Lafayette Boulevard, Fredericksburg, VA 22401
Visitor Services: Pick up maps, Junior Ranger books, speak with parks staff, and visit the nearby Park Store
Exhibits: three exhibits rooms covering the periods before, during, and after the Battle of Fredericksburg
Film: 22-minutes, plays every half hour
Accessibility:

The first floor of the Fredericksburg Battlefield Visitor is accessible via a ramp in the front of the building. The lower level exhibits and auditorium are not wheelchair accessible. The park film is shown on request on the first floor. There is a wheelchair accessible restroom next to the bookstore across from the parking lot. Wheelchairs are available for visitors to use.
Assisted listening devices are available from staff at the orientation desk upon request.
Service animals are allowed inside park buildings.

Nearby Activities: Walk the Sunken Road Walking Trail (pdf), a 0.5-mile route that follows along the Sunken Road and up Marye's Heights, the locations where Confederate defenders held off Union attacks, and ends at the Fredericksburg National Cemetery, the final resting place of over 15,000 United States soldiers who died in the Civil War.
Chancellorsville Battlefield Visitor Center
9001 Plank Road, Spotsylvania, VA 22553
Visitor Services: Pick up maps, Junior Ranger books, speak with parks staff, and visit the Park Store
Exhibits: exhibits cover the Battles of Chancellorsville, Wilderness, and Spotsylvania Court House
Film: 22-minutes, plays every half hour, $2 fee ($1 for ages 62+, free for kids 10 and under)
Accessibility:

The Chancellorsville Battlefield Visitor Center is wheelchair accessible. Wheelchairs are available for visitors to use.
Assisted listening devices are available from staff at the orientation desk upon request.
Service animals are allowed inside park buildings.

Nearby Activities: Walk the Jackson Wounding Trail around the visitor center, or take a longer route on the Chancellorsville History Trail (pdf)
Last updated: January 4, 2022