Pets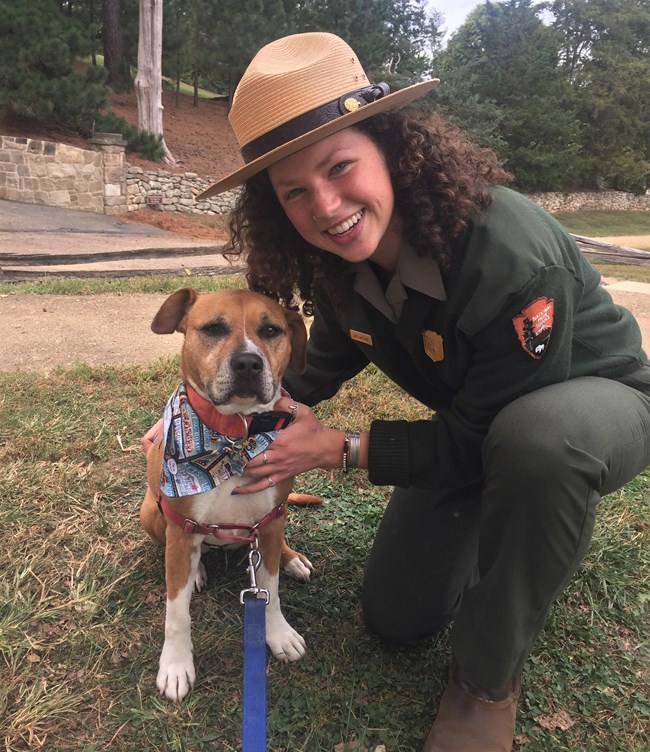 Visiting the park with pets?
The vast majority of the park's 8,000 acres is very pet friendly, and we welcome two- and four-legged visitors alike! To make sure your pet has a safe and happy visit, it is best to plan ahead.

Pets are welcome on all park grounds with the exception of the Fredericksburg National Cemetery. The park has a number of hiking trails, which provide a great opportunity to exercise with your pet. Our driving tours are also pet friendly, and animals are welcome on ranger-led walking tours as well.

Pets must be securely leashed at all times when walking the grounds, with no exceptions. In addition to the safety of other pets and human visitors, many locations within the park are near busy public roads. Please keep in mind that your pet will likely come into contact with other visitors (both human and canine) when out in the park, so it is important to have an awareness of your pet's social behavior.

Pets are not permitted in the Fredericksburg Battlefield Visitor Center, the Chancellorsville Battlefield Visitor Center, or in any of the park's historic structures.

When visiting the park with your pet, please plan ahead. Bring plenty of water, particularly in the warm summer season, and be aware of your pet's physical limitations. Plan to have someone stay with your animal at all times. A pet should never be left in a car alone.

If you have any questions or concerns about pets in the park, please call 540-693-3200. Have a safe visit!

Service animals are permitted at any location within the park, without exception. Learn more about accessibility within the park.
Last updated: October 5, 2021