Past & Present Photo Project
Recreate a historic photo of an Olmsted designed landscape! We explored parks in the Emerald Necklace in Boston with a camera and a print of a historic photo from that park. We hope this comparison of old and new photos sparks thinking about the ways landscapes change over time as well as the relationship between people and their landscapes. We invite you to help us create a richer exploration by adding photos of your own. Try a "photo in a photo" or just try to find the exact spot a photo was taken and snap a shot.
Find the historic images on our Facebook page (you do not need a Facebook account to access).

How to Join in the Project
1) Find a historic photo on in our #OlmstedPastandPresent album on Facebook where we have posted sets of historic photos from a number of parks. You do not need a Facebook account to access these photos.
2) Take a printed photo to the park or take a phone or tablet with internet access to the archives page.
3) Find the spot where the historic photo was taken and snap your own photo. Try a "photo in a photo" or just take a photo that shows the same view as the historic photo.
4) Share your photo back with us on Facebook, Instagram (@OlmstedNHS), or email us!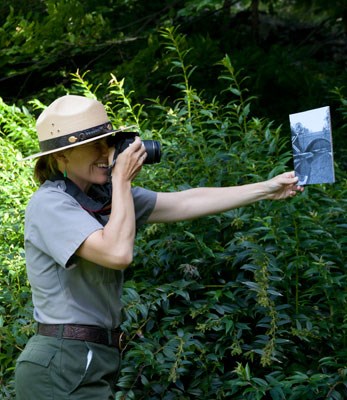 Tips for taking "photos in photos"
-Print large versions of the photo. We found that a 10"x 16" size worked well.
-Crop photos down to an interesting feature.
-Pick photos that have an elements which may show some continuity between photos, such as the contour of the land, a body of water, or a man made structure.
Last updated: July 27, 2020