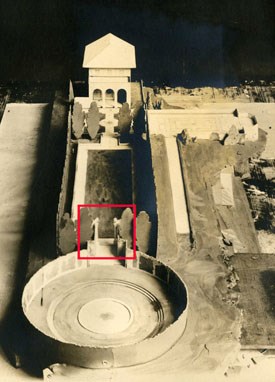 Henry Sanderson and his wife hired architects Hunt and Hunt to design an Italian-style villa he named "La Selva." To complement his Long Island, NY, home, Sanderson brought in Olmsted Brothers to plan the surrounding landscape. The Olmsteds created formal Italian gardens, corresponding to the home's architecture, and more natural areas.


Mermaid and Merman
To the left is a model that Selmer-Larsen made for the Sandersons showing Olmsted Brothers' plans for their formal garden. From the loggia, the Sandersons could look out over a stretch of lawn (called the tapis vert) and past two columns to a fountain in a circular garden. A merman and a mermaid would decorate these columns (framed by the red box).
Selmer-Larsen began to design the merpeople after Olmsted Brothers completed their initial plans in 1916. He started by making a small, rough idea in clay.