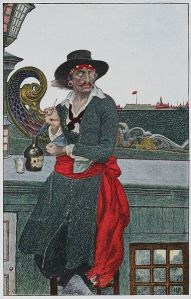 Franklin H. Head's after-dinner conversation about treasure buried on the coast of Maine by the notorious pirate Captain Kidd resulted in the writing of a tongue-in-cheek story intended only for intimate friends, but which soon afterwards, because of a very convincing narrative, was taken for a true tale. The work's title refers to a supposed lawsuit between Frederick Law Olmsted, the noted landscape architect, and members of the Astor family. Olmsted purportedly accused the Astors of stealing Kidd's treasure from the Olmsted family's land on Deer Isle, Maine. It was Olmsted's daughter Marion's after-dinner conversation with the author that led to the production of this, to use Frederick Law Olmsted's words, "burlesque hoax." - See more at: http://www.lawbookexchange.com/pages/books/59608/franklin-h-head-frederick-law-olmsted/a-notable-law-suit#sthash.BKdcIxWT.dpuf
This story was written by Franklin Head and was printed privately in 1898. The genesis of the story was an after-dinner conversation the author had with Marion Olmsted, the daughter of Frederick Law Olmsted. Her tongue-in-cheek narrative eventually gained traction as a true tale. Her brother Rick Olmsted called the whole affair "a burlesque hoax". Liberty Magazine eventually got a hold of the story and ran it was fact. Truth or Fiction - it's a fun read!


Did John Jacob Astor Find Captain Kidd's Riches? And did he steal them from the Olmsteds?
Here's a True Story Stranger than Any Fiction — of Pirate Gold and the Birth of a Famous Fortune




PART ONE — THE IRON BOX
John Jacob Astor, fourth of an honored name, was stroking his long silken mustache. Everything about John Jacob Astor was long and silken. An aristocrat. And why not?
Wasn't it his mother, the Mrs. Astor, who sat in that beautiful French chateau on upper Fifth Avenue and decided who was and who was not in New York society?


Wasn't it his great-grandfather, the first John Jacob Astor, who had invested two million dollars in New York real estate, and invested it so wisely that it had grown, in the hands of succeeding generations of Astors and Wendells and Delanos and Chanlers and Careys and Van Alens, until it had now reached, in the 1890s, the colossal total of four hundred and fifty million dollars?
Wasn't he, Colonel John Jacob Astor, scholar, sportsman, soldier, financier — he who was to meet a tragic death on the Titanic — called the Landlord of New York?
"Mr. Astor," said an obsequious clerk, "two gentlemen, Mr. Evarts and Mr. Olmsted, wish to see you on a matter they say is of the greatest importance."
"Not Mr. William M. Evarts?"
"Yes, Mr. Astor. Mr. William M. Evarts and Mr. Frederick Law Olmsted."
That settled it. Senator Evarts, senior partner of the great Joseph H. Choate, was probably the foremost legal authority of his generation. And Mr. Frederick Law Olmsted, of the Brookline, Massachusetts, and Deer Isle, Maine, Olmsteds, was, as everybody knew, a famous landscape engineer, a city-builder, a civic architect, one of the best known men of his time.
"Let them come in," said Mr. Astor.
They did — Mr. Evarts big, burly, expansive, impressive; Mr. Olmsted quiet, retiring, sensitive. The greetings were becomingly cordial.
How could Mr. Astor suspect that Mr. Evarts's first words were to strike at the very foundation of his great fortune?
"Mr. Astor," the senator began, "my client, Mr. Olmsted, has come to you on a matter of extreme importance and delicacy. He has indisputable proof that the Astor estate was not founded, as you and all the world have been led to believe, on your great-grandfather's profits in furs."
"Well, senator," smiled Mr. Astor, "on what was it founded?"
"On the buried treasure of Captain Kidd!"
Now, the fourth John Jacob Astor was not a laughing man. He was, if anything, on the solemn side. But at this juncture he laughed long and heartily.
"You can't expect me, senator, to take you seriously," he said.
"Why else are we here?" said the lawyer.
"But Captain Kidd and my great-grandfather — "
"Mr. Astor, piracy makes strange bedfellows. And so does finance. And far stranger things have happened in both than the fact that the very substantial and highly respected fortune which you enjoy was founded on the stolen treasures of the most notorious pirate of all times."
"Did you say fact, senator? Aren't you going a bit fast?"
"As I said, Mr. Olmsted has the proof."
The man of great wealth turned to his other caller.
"Mr. Olmsted," he said, "I have the highest respect for your reputation and your achievements. I would be inclined to believe anything you said which could possibly be within your knowledge. But I hardly see how this alleged fact could possibly be in that category — or how,
if it were, it could possibly interest you."
He rose, his hand once more on his mustache.
His two callers, however, showed no sign of departing.
"Mr. Astor," began Mr. Olmsted in a low, measured voice which demanded attention, "the fact to which Mr. Evarts has referred does interest me, and rightly."
"And why, may I ask, should anything concerning the Astor estate interest you?"
"Because the Astor estate belongs not to you but to me."
Mr Astor sat down. After all, the man in front of him was no adventurer. He was a sober, distinguished gentleman, a man of wealth in his own right, and he was accompanied by counsel of national eminence. Such a claim was not to be laughed off too easily.
"I realize, Mr. Astor," continued his caller, "that this disclosure must come as a shock to you — arid I beg you to believe that I do not impute any unworthy motives to your ancestor in this matter. He was simply a shrewd business man who made the best deal he could — "
"Deal, man? What are you talking about? How could my great-grandfather have made a deal with this fellow Kidd? Why, Captain Kidd — "
"Yes, I know, Mr. Astor. Your ancestor did not make a deal with Captain Kidd. But I have established that he did make one with the man who found Captain Kidd's treasure."
"Well, suppose, for the sake of argument, that he did. Where do you come in?"
"The treasure was buried on land which I own — which my family owned at the time Kidd buried it."
Mr. Astor looked from Olmsted to Evarts.
"That's it," said the lawyer. "The treasure was found on Mr. Olmsted's land. It was therefore his property."
The full weight of what these men were saying — the enormity of what they intended — seemed suddenly to come home to the usually imperturbable John Jacob Astor.
"Preposterous!" he fairly shouted.
But he made no attempt to dismiss his callers or the subject regarding which they had come. It may have occurred to him — since he was himself a student of the early history of New York — that Captain William Kidd was no such mythical person as the stories about him would lead one to suppose. In fact, he wasn't mythical at all.
William Kidd was, throughout most of his long career on the sea, a merchant shipmaster of honorable repute. He lived in what is now New York City in a comfortable home on Liberty Street with his wife, a prosperous widow whom he had married rather late in life. So good was his reputation that in 1695, when he chanced to enter the port of London in his brigantine the Antigoa, he was commandeered by the newly appointed Royal Governor of the Colonies of New York and Massachusetts, Richard, Earl of Bellomont, to lead an expedition against the pirates who sailed out of North Atlantic ports and harassed British commerce in the distant Indian Ocean.
So far, there was nothing in his career to threaten either Mr. Astor's wealth or his peace of mind.
What happened to Captain Kidd when he reached the Far East no one seems to know for sure. Whether he was tempted by Oriental opulence and gorgeousness into the almost unbelievable piratical excesses connected with his name, or whether his crimes were exaggerated by tales spread by his enemies, the real pirates, and by his mutinous and deserting crew, is unimportant in the present case. Mr. Astor was not concerned with the captain's morals!
But that Captain Kidd must have left the larger part of his treasure somewhere along the Atlantic coast — probably with the idea of keeping it dark until he should find out just where he stood on the charges which had been lodged against him — would seem to be, on the record, an inevitable conclusion: so inevitable that a commission of experts representing the British government, at the time of Captain Kidd's trial and hanging in 1701, spent months and several hundred pounds of good English money in a vain attempt to decipher their only clue to the treasure's whereabouts — a small piece of pasteboard which Kidd, after a whispered conference, had been seen handing to his wife.
This card bore these hastily scribbled figures:
44106818
Not much, to be sure, these cryptic figures, on which to base a search for buried gold. But over a period of two centuries this undeciphered and apparently undecipherable cipher had been enough to cause hundreds of otherwise sober-minded persons to spend hundreds of thousands of dollars digging and drilling on almost every likely spot from Nova Scotia to Key West.
Yes, Mr. Astor knew — or could have known — these facts. Perhaps it was some vague recollection of them which made him continue to give ear to what was probably the most unbelievable tale ever told in a modern business office.
"It is understood, is it not, senator, that I am listening to this story without prejudice to any of my own or my family's rights in the matter?"
"Certainly, Mr. Astor. My client comes to you as one gentleman to another."