Post-Visit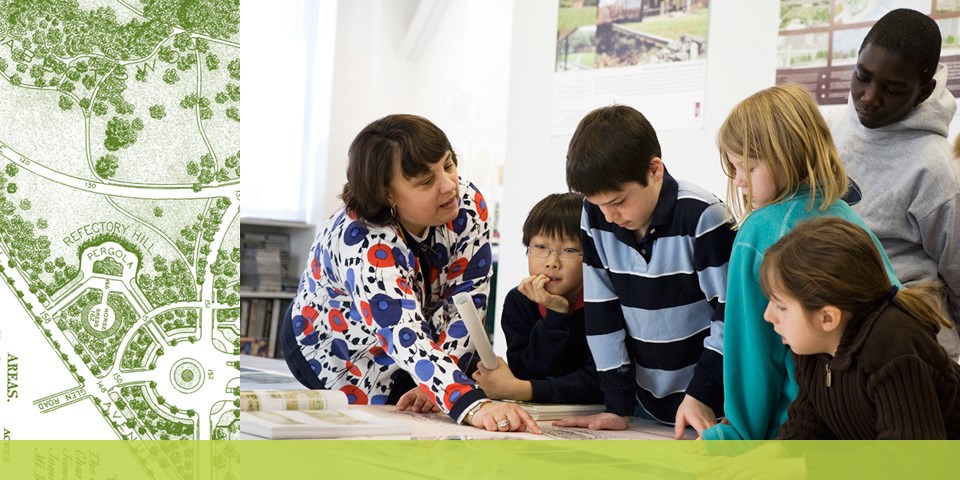 Real-World Learning for 3rd Graders
Intro
_
׀
_
Pre-Visit
_
׀
_
On-Site
_
׀
_
Post-Visit
_
׀
_
Get Involved
Post-visit activities extend learning beyond the on-site program and provide students with opportunities to share how their understanding of landscape architecture and the design process has changed as a result of their Fairsted experience. Teachers can choose one or more of the following activities to complete with students.
Post-Visit Activity #1: Explore the Emerald Necklace
What does the Emerald Necklace reveal about its past? What will be its future?
Using a stylized, family-friendly map and associated icon cards, students and their families explore Olmsted's Emerald Necklace to learn about its past and consider its future. Sites of exploration include the historic Bear Cages at Franklin Park, the Hancock Steps at Jamaica Pond, old light posts along Olmsted Park's Babbling Brook, and the Round House and Bridle Path along the Riverway.
Post-Visit Activity #2: Investigate an Olmsted-Designed Park
What was the firm's vision for this park? What does it look like today? What will you recommend to public officials?
With peers, students assess the health of an Olmsted-designed park by comparing existing conditions with historic images, plans, and descriptions - then write letters with their assessments and recommendations to public officials.
Post-Visit Activity #3: Landscape Architecture Today
Who are today's landscape architects? How do they work and how is their work related to you?
Classes visit a landscape architecture firm to learn about the contemporary design practice. This activity is supported by an adopt-a-classroom program coordinated through the Boston Society of Landscape Architects.
Last updated: October 17, 2017