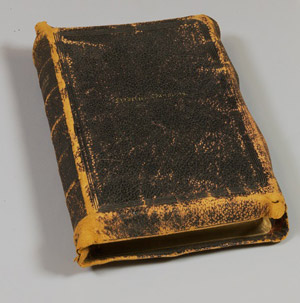 News Release Date:
June 17, 2015
Contact: Jenny Anzelmo-Sarles, 202-619-7400
The Frederick Douglass Bible, used earlier today by Attorney General Loretta Lynch for her official installation ceremony, will be on temporary display at the Frederick Douglass National Historic Site visitor center through July 5. The park is free and open from 9 a.m. to 5 p.m. daily.
The Metropolitan African Methodist Episcopal Church in Washington, D.C., gave Douglass the Bible in 1889 as he prepared to travel to Haiti, where he had been appointed by President Benjamin Harrison to serve as the U.S. Minister and Consul General. Embossed with Douglass's name on the front cover, the handsome, leather-bound edition was published by Oxford University Press and contains both the Old and New Testaments.
Frederick Douglass was born on a plantation on the Eastern Shore of Maryland around 1818. He died 77 years later in his home at Cedar Hill, high above Washington, DC. In his journey from an enslaved man to internationally renowned activist, Douglass changed how Americans thought about race, slavery and American democracy. Since the early 1800s Douglass's life has been a source of inspiration and hope for millions. His legacy serves as an inspiration for all Americans to live up to the highest ideals and make the United States a land of liberty and equality for all.
Frederick Douglass National Historic Site, managed by the National Park Service, is located at 1411 W St. SE, Washington, D.C. The park is free and open to the public from 9 a.m. to 5 p.m. daily. Plan your visit at www.nps.gov/frdo