Collections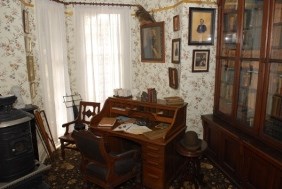 The Library
Frederick Douglass's library is a special place. Lit by three large windows, books on almost every imaginable subjects fill the many bookcases. Off to the side, a black iron stove promises cozy warmth on cold days. In the center of the room, a heavy wooden desk sits awaiting the author's next great sentence. Douglass was a true man of letters, and his ideas seem to fill the room. It is a place where, if you close your eyes and reach out your hands, it seems almost possible to touch the mind of Frederick Douglass.
A visit to Cedar Hill is a wonderful way to experience Douglass's ideas. However, a tour of the house doesn't allow for a close inspection of the titles in the library's bookcases.
Fortunately, we now have searchable lists of all the books and booklets in the National Park Service's collection. They may not be complete lists of all the reading material that Douglass ever owned, but we believe they cover the vast majority. Please contact us for more information about the books and booklets collection.
Books
Frederick Douglass's Diary from 1871 (from his trip with a commission to consider U.S. annexation of the Dominican Republic) - please contact us for access

Helen Douglass's Diary from 1887 and 1889 (including trips to France, Italy, Egypt, and Haiti) - please contact us for access
Virtual Museum Exhibit
Many of the objects in the park's collection, including portraits and other books from Frederick Douglass's library, can be found in this
online exhibit
developed by the National Park Service Museum Management Program.
Last updated: July 27, 2022