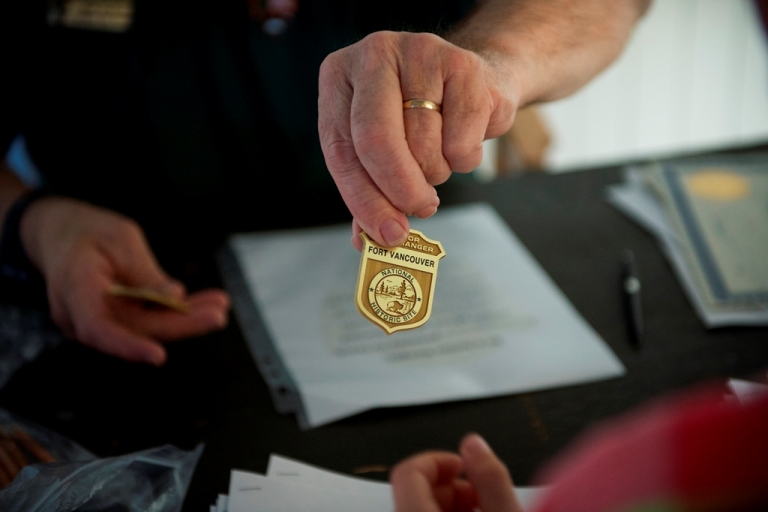 News Release Date:
March 30, 2016
Contact: Bob Cromwell, Acting Chief Ranger, 360-816-6253
Contact: Theresa Langford, Curator, 360-816-6252
 As the National Park Service (NPS) celebrates 100 years of protecting and preserving the nation's parks and monuments, Fort Vancouver National Historic Site is joining in the celebration! All 410 units of the NPS, including Fort Vancouver, will be fee free from April 16 through April 24. The week will also feature exciting, fee-free, family-friendly programs.
"As our nation's largest celebration of America's heritage, National Park Week engages with and encourages all Americans to come visit our national parks," said Acting Chief Ranger Bob Cromwell. "We welcome everybody to come visit us on this fee free week and experience events tied to National Park Week and the National Park Service Centennial."
Junior Ranger Day
When: Saturday, April 16, 12 pm to 3 pm
Where: Pearson Air Museum & Reconstructed Fort Vancouver
National Park Week kicks off on April 16 with Junior Ranger Day. Enjoy kid-friendly activities at Pearson Air Museum and historic demonstrations at Fort Vancouver. Kids who complete one (or both!) of the park's themed Junior Ranger booklets will be officially "sworn in" and receive their Junior Ranger badges. There will also be specially themed Centennial Edition Junior Ranger Booklets and badges for the first 200 attending children! The Junior Ranger program is designed for children ages 6 to 12, but younger children can complete it with help. Older kids and adults are welcome to participate as well.
Art of Legacy Opening Reception
When: Saturday, April 16, 11 am
Where: Historic Hangar at Pearson Air Museum
North Bank Artists partnered with Fort Vancouver National Historic Site for this year's Art of Legacy program, in honor of the National Park Service's 100th year. Students from the Vancouver School of Arts and Academics and Thomas Jefferson Middle School created art pieces inspired by artifacts in the park's museum collection.
The program included a field trip to Fort Vancouver National Historic Site, where the students learned about Vancouver's past through the lens of historic documents and archaeology, and studied numerous artifacts from the park's museum collection. After the field trip, teaching artists, including a master printmaker, visited the classrooms to provide guidance on techniques and writing interpretive panels to accompany the artwork.
"The field trip was exceptional this year, and students came away with a better understanding of the role the parks serve in our community. The classroom projects went very well, and I am excited for folks to see how they turned out," said Maureen Montague of North Bank Artists.
The Art of Legacy student show will be on display from April 16th to June 4th.
Yuri's Night
When: Saturday, April 16, 5 pm to 9 pm
Where: Pearson Air Museum
Join us in celebrating Yuri's Night World Space Party, a global event that commemorates the accomplishments of Russian Cosmonaut Yuri Gagarin, the first man to orbit the earth. Gagarin attended the First Chkalov Air Force Pilot's School, named after Valery Chkalov. Chkalov landed the world's first transpolar flight at Pearson Field in 1937.
At Yuri's Night, there will be family-friendly activities, including the construction and launching of two-liter pressure bottle rockets. An information booth from the Oregon L5 Society (a division of the National Space Exploration Society) will discuss space exploration. Dr. Cameron Smith will be present with his home-built high altitude pressure suit and his high altitude helium balloon, from which he intends to test his pressure suit later this year. Weather permitting, the evening will finish with an outdoor star gazing tour led by a national park ranger who is a certified star guide.
Opening Reception for a new exhibit by artist Toma Villa
When: Saturday, April 23, 2 pm
Where: Fort Vancouver Visitor Center
Join us for an opening reception honoring our new guest artist in the Fort Vancouver Visitor Center: Yakama artist Toma Villa. A temporary exhibit featuring works by Villa will premiere at this event, but the centerpiece will be a new, permanent art piece in the main lobby of the Visitor Center.
Villa has spent the last year working on the sculpture for the park's Visitor Center, in honor of the National Park Service's centennial year. Villa calls his work a "Spirit Pole." Carved from a single cedar log, the work also includes glass sculptural components. The Spirit Pole symbolizes the harmonious dance that creates balance in nature, as well as the resources of the Pacific Northwest that have sustained people here for thousands of years. The Spirit Pole is also a touchable artwork, so visitors of all ages can experience it both visually and through texture.
"We are very excited to bring this piece of art to our Visitor Center as a permanent installation," said Curator Theresa Langford, "In addition to being a beautiful sculpture, the message behind the work and its ties to the elements that characterize life in the Northwest, are undeniably powerful."