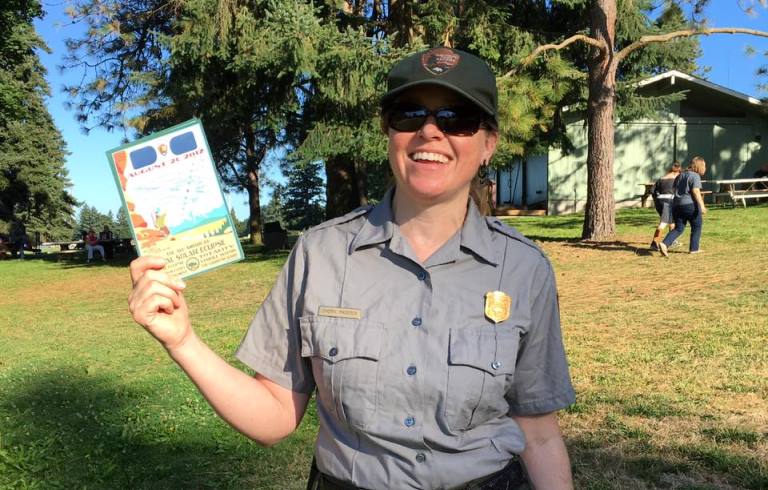 News Release Date:
September 19, 2017
Contact: Theresa Langford, 360-816-6252
Give your solar eclipse glasses a second chance to serve others!
On the day of the recent solar eclipse, Fort Vancouver distributed approximately 700 eclipse glasses free of charge. Prior to that day, the Friends of Fort Vancouver sold approximately 800 glasses. Throughout the area, thousands of people purchased or received donated eclipse glasses. 
"With so many eclipse glasses out in our community most likely gathering dust or adding to clutter, we wanted to recommend that members of the public consider dropping off their glasses here at your national park and we will see that they are packed up and mailed to "Astronomers Without Borders," in order to see that they are put to new use," shared Superintendent Tracy Fortmann. She added, "Education is our primary focus and it seemed to make sense to reach out to the public. Think about it, if only 50% of the glasses that were provided by way of the National Park Service and our Friends of Fort Vancouver NHS, we will be able to donate 750 glasses to serve young students in need."
The public should bring their gently used eclipse glasses to be donated to Astronomers Without Borders to the Visitor Center at Fort Vancouver National Historic Site, a designated collection center.  The National Park Service's Visitor Center at Fort Vancouver NHS is located at 1501 E Evergreen Blvd, Vancouver, WA 98661. You can also drop off glasses at the
McLoughlin House Site
in Oregon City, Oregon, which is also part of Fort Vancouver National Historic Site. For addition information about our location or when to drop them off, contact our Visitor Center by calling (360) 816-6230.  .
Astronomers Without Borders and Explore Scientific are collecting glasses to be sent to schools in South America and Asia when eclipses cross those continents in 2019. "We are so fortunate that our national park is surrounded by Vancouver and in Oregon City by generous caring communities. I just knew that there were many who might want to participate by helping students elsewhere have the opportunity to view the eclipse as we did here. I applaud Curator Theresa Langford who has served as lead on this thoughtful initiative to serve students," noted Superintendent Fortmann.
Glasses will be sent to schools and other institutions in countries where they're needed but aren't available. The next two solar eclipses across populated areas are in 2019 - a total solar eclipse in southern South America and an annular eclipse in southeastern Asia. But a partial eclipse will be seen throughout most of South America and southern Asia so the glasses are needed by millions. If there are glasses left they will be distributed to more schools in countries with eclipses beyond 2019.
For more information on Astronomers without Borders and this recycling program, please go to:
https://astronomerswithoutborders.org/awb-programs/resource-sharing-programs/eclipse-glasses-donation-program.html
For more information on Fort Vancouver National Historic Site please go to:
www.nps.gov/fova