McLoughlin House
Dr. John McLoughlin was a trained physician who served as the chief factor of the Hudson's Bay Company's Fort Vancouver from 1825 to 1845. There, he was responsible for overseeing a vast fur trading operation that stretched from Northern California to Alaska. McLoughlin also provided assistance to exhausted, starving American emigrants arriving at Vancouver after crossing the long and difficult Oregon Trail. After his retirement in 1846, he settled into this home by the Willamette Falls in Oregon City.

In Oregon, McLoughlin built a new career for himself and a new life for his family. He became an American citizen in 1851, and served as the mayor of Oregon City. He and his wife Marguerite were known for their hospitality and generous support of those in the community. McLoughlin loaned money to emigrants to help them establish commercial ventures and he owned sawmills, a gristmill, a granary, a general store, and a shipping concern. He also donated land for schools and churches.

McLoughlin's home, saved from demolition by the McLoughlin Memorial Association and moved to its present location in 1909, was added to the National Park System in 2003 as a unit of Fort Vancouver National Historic Site. The unit includes both the McLoughlin House and the neighboring Barclay House. Park staff and volunteers, including many from the McLoughlin Memorial Association, provide a number of different activities including tours, talks, special events, and Victorian Handcraft Demonstrations.
Visiting the McLoughlin House
The site is open Friday and Saturday from 10:00 a.m. to 4:00 p.m. The Barclay House is open to the public from 10:00 am to 4:00 pm.

Free tours of the McLoughlin House take place at 10:15 am, 11:15 am, 12:15 pm, 1:15 pm, 2:15 pm, and 3:15 pm; tours begin at the Barclay House.

For assistance please call (503) 656-5151 during McLoughlin House open hours. For immediate assistance call Fort Vancouver at (360) 816-6230 during regular business hours.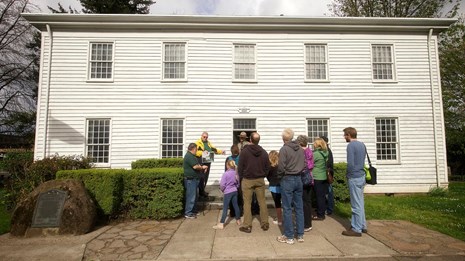 Directions to the McLoughlin House
Need help finding your way to the McLoughlin House? Click here!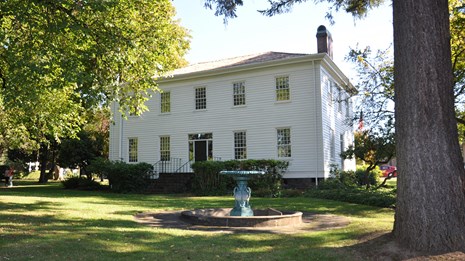 Victorian Handcraft Demonstrations
Join us at the McLoughlin House for this year's Victorian Handcrafts Demonstration series!
Last updated: March 21, 2019