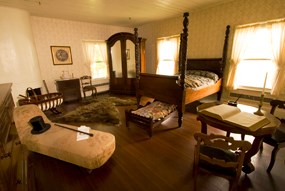 He was known in Oregon City as the "Doctor" - a trained physician who once presided over British fur trade interests in a vast area stretching from California to Alaska.
John McLoughlin, former Chief Factor at Fort Vancouver in the Oregon Country from 1825-1845, possessed both business acumen and compassion.
He made money for the Hudson's Bay Company, but also assisted exhausted, starving American emigrants arriving into the region via the Oregon Trail.
All his actions were set against the international stage of American and British politics and determination of national boundaries.
Forced into retirement, he and his family settled into this home by the Willamette Falls in Oregon City in 1846.