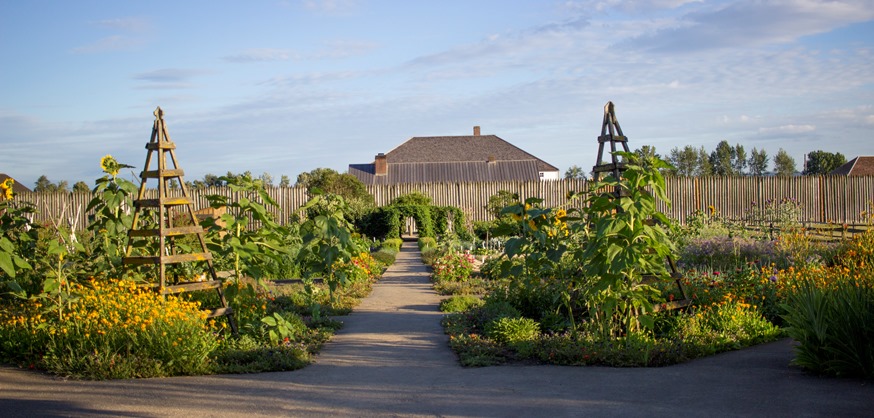 News Release Date:
January 4, 2017
Contact: Tracy Fortmann, Superintendent, 360-816-6205
As the National Park Service embarks on its second century of service, Fort Vancouver National Historic Site (NHS) is celebrating the significant accomplishments of its centennial celebration and engagement with the
Find Your Park
/
Encuentra Tu Parque
initiative.
In 2016, Fort Vancouver NHS engaged the next generation of park stewards through new and expanded youth programs. Park staff worked with students from Vancouver iTech Preparatory to create a virtual tour of the national park, and worked with students from Vancouver's Thomas Jefferson Middle School and Vancouver School of Arts and Academics to create a special exhibit of student-created artwork based on artifacts in the park's museum collection.
Preservation projects throughout the park helped to preserve important resources. 2016 marked the first year that the park's rehabilitated Visitor Center had been open. Extensive renovations brought this building to a Gold LEED standard. Vancouver Barracks Building 987, a century-old US Army barracks building, also underwent rehabilitation with painstaking attention to historic preservation. The building will reopen in early 2017 as the headquarters of the U.S. Forest Service's Gifford Pinchot National Forest.
The park worked closely with NPS architects and engineers and Oregon State University to plan and oversee a rehabilitation of the iconic Fort Vancouver palisade. This work began in January of 2016, and was completed two month ahead of schedule in June, 2016, on the 50th anniversary of the reconstruction of the palisade.
Fort Vancouver NHS partnered with Northwest Youth Corps to replace cedar split-rail fences throughout the park. For five weeks this past summer, nine youth from the Portland/Vancouver area worked alongside members of the park's maintenance crew to rebuild aging fence lines. While here, the participants were provided with special interpretive programs and behind-the-scenes tours. The park also hosted a hands-on training for the NPS Arborist Training Program. Employees from various parks worked on climbing and rigging techniques while preserving the park's historic trees.
In 2016, Fort Vancouver NHS also hosted two Centennial Volunteer Ambassadors, part of a partnership with the Student Conservation Association. Ambassadors Aaron Porter and Joe Morse led a number of volunteer and community service projects, and opened up a new partnership between the park and SOLVE Oregon.
The park engaged visitors through new events and exhibits. At Pearson Air Museum, the park hosted one of several regional BioBlitz events, which invited citizen scientists to catalog biodiversity at the park. Also at Pearson Air Museum, new exhibits on the world's first transpolar flight and the DH-4 Liberty plane were unveiled.
At the park's Visitor Center, local artists displayed artwork inspired by their national park. Yakama Nation artist Toma Villa also completed his
Spirit Pole, 
a large, permanent art installation that interprets the interconnectedness of people, animals, and landscape.
Our Centennial year also brought the largest visitation in the park's history - 1,019,239 visitors visited in 2016. The park also distributed 360 Every Kid in a Park passes as part of a program that provides free access passes to public lands to fourth graders.
Fort Vancouver NHS Superintendent Tracy Fortmann said, As an urban national park, we serve a vibrant and diverse community. Our 2016 Centennial projects were a way for us to reconnect with our community as well as make a special connection with the next generation of park stewards in our local area." Fortmann added, "We look forward to beginning our second century of service to our community and the public!"  
Fort Vancouver National Historic Site Programs Contributed to Overall Success of the NPS Centennial
Across the country, centennial programs resulted in a significant level of public interest and social media engagement with the National Park Service and the National Park Foundation. The NPS, NPF, and partners across the nation reached hundreds of millions of people with the centennials' Find Your Park message, and engaged the public in the NPS stewardship mission.
The Find Your Park campaign has resonated particularly well with younger audiences, which the NPS and NPF targeted since they will be the next generation of national park visitors and stewards. Millennials are increasingly familiar with the Find Your Park campaign, and NPS youth programs were a key component of NPS and NPF centennial engagement.
"I like to say the NPS is the only federal agency with a mandate to ensure the public has fun, and the centennial has been a lot of fun," said National Park Service Director Jonathan B. Jarvis. "But more importantly, it has inspired and engaged a new generation to take on the mantle of responsibility for the most important places and stories that define us as citizens of the United States of America."  
Looking Ahead: Find Your Park in 2017 and Preparing for a Second Century of Service
Planning is underway to build on the success of Find Your Park / Encuentra Tu Parque as the National Park Service, the National Park Foundation, and other partners will continue the campaign's momentum in 2017. The Find Your Park movement will continue to engage new audiences, especially around significant moments, including National Park Week in April and the NPS 101st birthday in August. Throughout the year, the NPS and its partners will invite the public to explore parks they haven't yet discovered, build personal connections to special places in their communities, and find ways to help ensure that future generations are able to fully experience their national parks and the NPS programs that steward America's treasures.
2017 will bring even more exciting new projects to Fort Vancouver NHS. The national park and its support organization, the Friends of Fort Vancouver, received a $9,000 grant from the National Park Foundation to make field trips more accessible to local students. This spring, newly designed curriculum-based educational programs will provide even more depth to the park's existing programs.
Improvement work in East Vancouver Barracks continues, with upgrades to infrastructure, painting of the large buildings along "Barracks Row," with the addition of a new tenant to Vancouver Barracks with offices of the Bureau of Indian Affairs, and the return of the Post Flagstaff to the Parade Ground. A new aircraft will also go on exhibit at Parson Air Museum: a full size replica of a Curtiss Pusher, which is being meticulously crafted by park volunteers. 2017 is shaping up to be another wonderful year at your national park!
More information about the success and long term legacy of the NPS Centennial is available online here: 
https://www.nps.gov/subjects/centennial/success.htm