Population of the Village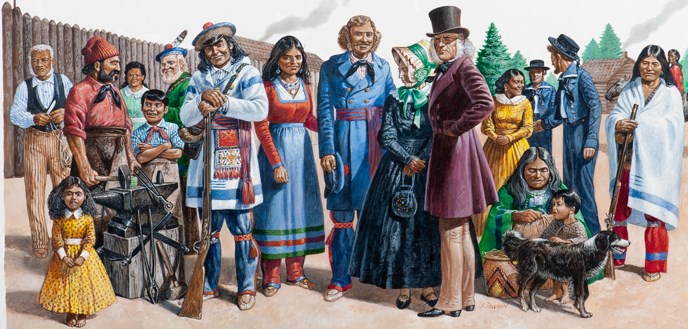 Estimates regarding the number of people living in the Village are difficult to make-there are abundant records of employees, but these don't indicate where they lived, or with whom. Nevertheless, it is clear that the population of the Village was fluid and seasonal, with many employees sent out on brigade for the majority of the year.
During peak season when the fur brigades returned to rest and re-supply, the settlement contained upwards of 600 inhabitants. For many years, the village was the largest settlement between Yerba Buena, (present day San Francisco, California) and New Archangel (Sitka, Alaska).
Not only was the village one of the largest settlements in the West during the fur trade era, it was also unmatched in its diversity. The Hudson's Bay Company purposefully hired peoples from different backgrounds, thus providing opportunities in the fur trade business to a variety of people from both the Old World and the New.
Much of what we know about the diversity of the village population comes from Company and Catholic Church records, which indicate that English, French-Canadian, Scottish, Irish, Hawaiian, Iroquois, and people from over 30 different regional Native American groups lived and worked here harmoniously.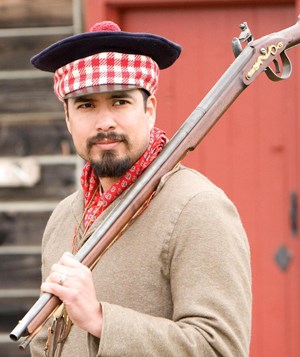 The Métis-a culture of mixed European and Native heritage-added to the diversity of the village. The Métis grew as the number of marriages à la facon du pays (marriages contracted without clergy) increased.
Few of the village spoke English, though French, Gaelic, Hawaiian, and a variety of Native American languages were often heard. In order to communicate with one another, most villagers learned Chinook Jargon, a mix of Chinook, English, and French.
Women and children were clearly an important part of population of the village, but they are rarely mentioned in the Company records. Unfortunately, the only information we have on the women and children of the village comes from the birth, death and baptismal records of the Catholic and Anglican Churches. These are not dependable counts since they record only specific people at the moments they were in contact with the clergy for a specific rite (e.g. birth, marriage, or death). Regardless, it is clear that the women and children accompanied their husbands on the brigades, and performed many duties in the dairies, in the fields, and other activities helping to sustain Fort Vancouver.
With the decline of the fur trade, and the expansion of American immigration and settlement of the region, the population of the village gradually shifted. The focus on waterways and the French-Canadian voyageurs gave way to mercantile activities.
The number of Hawaiians working as contract laborers for the Company grew steadily during this period. The large number of Hawaiian workers in the village led to the name "Kanaka Town" in the early 1850s - "Kanaka" is the word for "person" in the Native Hawaiian language.
To continue learning about the Village, please click on one of the options below:
Last updated: February 28, 2015