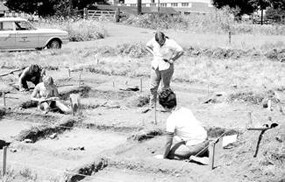 Archaeological excavations and the analysis of its material culture are primary sources for understanding the village and much of the history of Fort Vancouver and Vancouver Barracks.
The first recorded archaeological investigations in the village area were in the northeastern area of the village in 1968, by Susan Kardas and Edward M. Larabee, and a University of Washington field school.
These excavations uncovered four house structures and several other features, such as animal burials and a well.