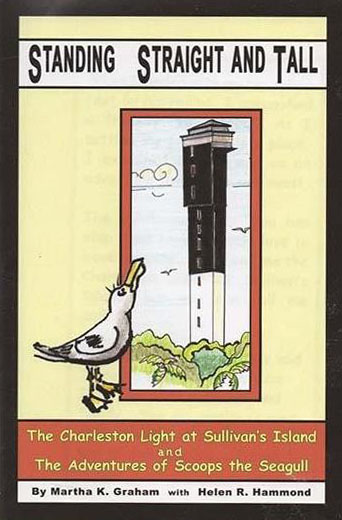 News Release Date:
July 16, 2016
Fort Sumter National Monument offers engaging children's activities each month, and we will continue the fun on July 30th at 10:30 AM. This free, one-hour story time will take place at the Edgar Allan Poe Library, located at 1921 I'On Avenue, Sullivan's Island, and includes stories, songs, music, crafts, and free play. The National Park Service Centennial Story Hour is geared toward children ages 3-9 and is designed to give youth a fun introduction into the history and culture of our National Park sites in the Charleston area, including Fort Sumter National Monument, Fort Moultrie, and Charles Pinckney National Historic Site.The book for this event is Standing Straight and Tall, The Charleston Light at Sullivan's Island and the Adventures of Scoops the Seagull by Martha K. Graham with Helen R. Hammond.  
Park Guide Sarah Martin said, "With National Lighthouse Day being August 7th, what better way to celebrate the lighthouse on Sullivan's Island? This lighthouse is the last major lighthouse built in the nation and it has an unusual triangular shape. It is going to be a lot of fun sharing the lighthouse with children through a story and crafts!"
This year, 2016, marks the Centennial of the National Park Service's establishment. To celebrate, the National Park Service is working on new ways to helps connect to parks and help them find their parks. Come find yours today! 
For more information on park news, events and programs you can follow us on Facebook or visit Fort Sumter National Monument and Charles Pinckney National Historic Site online.