News Release
Fort Sumter National Monument Redesignated as Fort Sumter and Fort Moultrie National Historical Park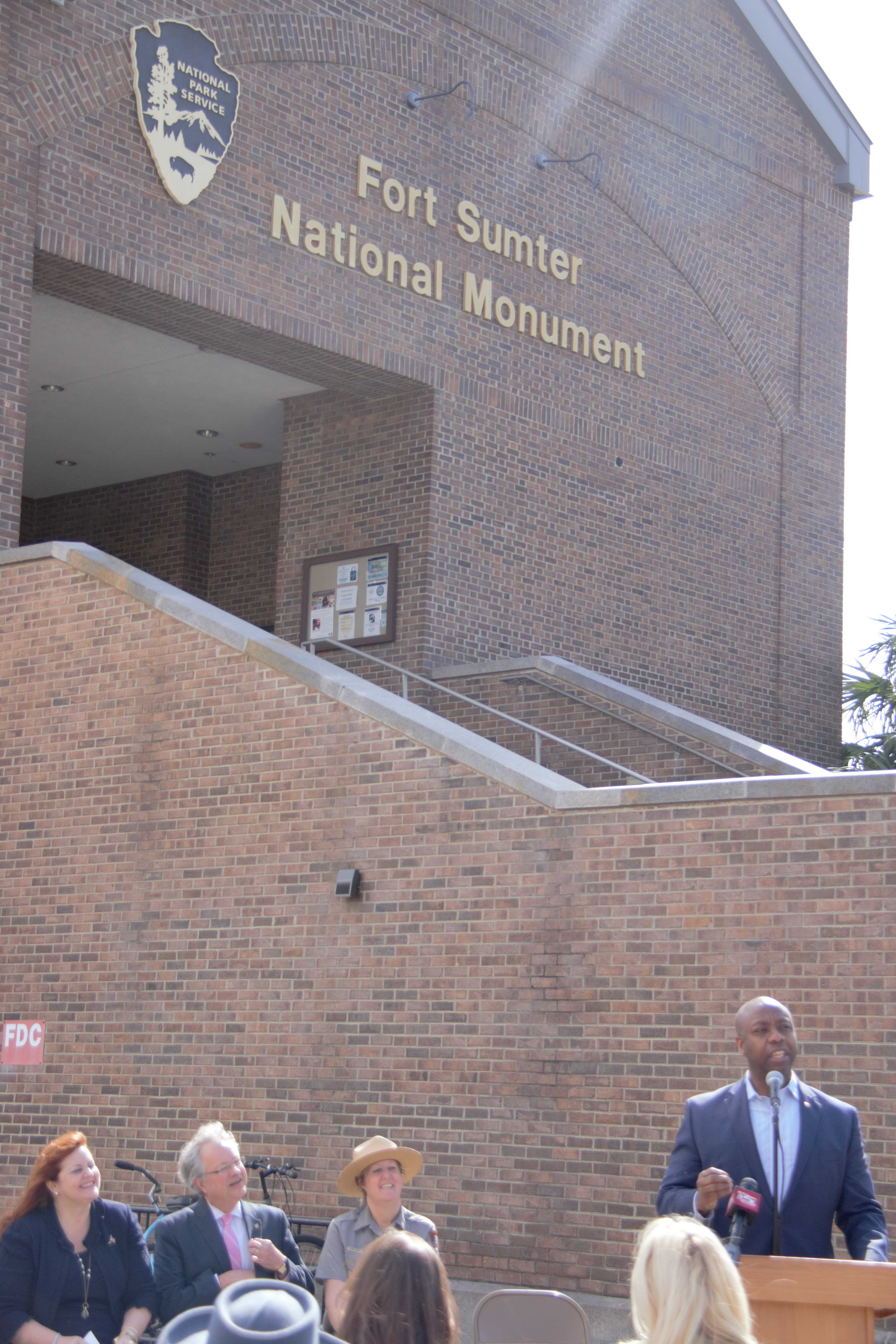 News Release Date:
March 15, 2019
Contact: Dawn Davis, 843-732-5013
The National Park Service announces the redesignation of Fort Sumter National Monument to Fort Sumter and Fort Moultrie National Historical Park. The law also establishes management authority and defines the boundaries of the park to include: Fort Sumter, Fort Moultrie and the Sullivan's Island Life Saving Station Historic District.
This provision was passed as a part of the John D. Dingell, Jr. Conservation, Management and Recreation Act (Natural Resources Management Act of Recognizes) which passed both houses of Congress in February and President Donald Trump signed into law on Tuesday, March 12, 2019. Originally, US Senator Tim Scott of South Carolina introduced legislation in both 2016 and 2017 to enact the changes to the park.  
Fort Sumter was added to the National Park Service as a national monument in 1948. Fort Moultrie was added to the park in 1960 using the Historic Sites Act of 1935. "This name change to Fort Sumter and Fort Moultrie National Historical Park will help the public to understand and recognize that Fort Sumter, Fort Moultrie and the Sullivan's Island Life Saving Station Historic District are part of America's National Park system," stated acting superintendent Dawn Davis. "In particular, it will be wonderful to have Fort Moultrie elevated by including it in the name of the park, especially as the 250th anniversary of the American Revolution is just a few years away.
Fort Sumter is the site of the opening bombardment of the Civil War on April 12-13, 1861. Across the Charleston Harbor entrance is Fort Moultrie, best known for the patriot defeat of the British Navy on June 28, 1776. Combined, both forts showcase 171 years of seacoast defense. Fort Sumter is located in Charleston Harbor and is only accessible by boat. Concession-operated ferry boats depart daily from Liberty Square in Charleston, and from Patriots Point in Mount Pleasant. The Liberty Square departure point houses the park's primary visitor center, and is located at 340 Concord Street in Charleston. For information on ferry departure schedules and prices, call Fort Sumter Tours, Inc. at (843) 722-2628 or visit them online at www.fortsumtertours.com. Fort Moultrie is located at 1214 Middle Street, Sullivan's Island and is accessible by car. Fort Moultrie has a park entrance fee of $7.00 per person, ages 16 and older or an annual Fort Moultrie pass is $20.00. The America the Beautiful – the National Parks and Federal Recreational Land Pass is valid at Fort Moultrie, but not for the ferry to Fort Sumter.
Now in its second century, the National Park Service continues to explore new ways to help visitors connect and find their parks. For more information on park news, events and programs, follow us on Facebook at www.facebook.com/FtSumterNPS and www.facebook.com/PinckneyNPS. Visit the park websites at www.nps.gov/fosu and www.nps.gov/chpi, or call 843-883-3123. You can also share your park experience with others by posting on social media with the hashtag #FindYourPark. Come find yours today!
www.nps.gov
Last updated: March 15, 2019