15th Annual Great Backyard bird Count
Date:
January 28, 2012
Contact:
Gloria Lee
, (912) 786-5787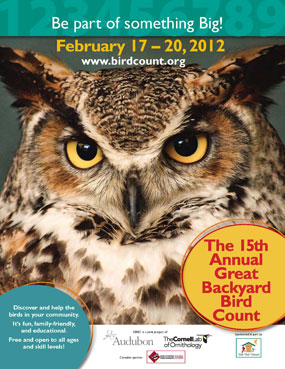 15th Annual Great Backyard Bird Count

Savannah, GA - Bird watchers of all ages are invited to participate in the Great Backyard Bird Count(GBBC) at Fort Pulaski National Monument. The 2012 GBBC will take place from Friday, February 17 to Monday, February 20.
Anyone from novices to expert bird watchers can take part in this annual event. No registration is needed. Bird checklists can be picked up at the Fort Pulaski Visitor Center. To participate, plan to count birds for at least 15 minutes on at least one day of the count. You can count birds on as many days as you like. Just complete a separate checklist for each new day. When you're finished, submit the forms to the Fort Pulaski Visitor Center. All numbers will be tabulated for the park's annual bird count.
The GBBC is a joint project of the National Audubon Society and the Cornell Lab of Ornithology withCanadian partner Bird Studies Canada.

The results provide a snapshot of the whereabouts of bird species. Bird populations are constantly changing. No single scientist or team of scientists could hope to keep trackof the complicated patterns of movement of so many species over an entire continent. The information fromGBBC participants is even more valuable as scientists try to learn how birds are affected by environmental changes.

The information from the bird count shows how a species' range expands or shrinks over time. A big change, noted consistently over a period of years, is an indication that something is happening in theenvironment that is affecting the birds and that should be followed up on. GBBC information also allows usto look at what kinds of birds inhabit different areas, such as cities versus suburban.

All the information from the GBBC and other surveys goes into a massive bird database called the Avian Knowledge Network (AKN). AKN now holds 36 million records of bird observations which are used byscientists around the world. For more information about the Great Backyard Bird Count, please visit www.birdsource.org/gbbc.

Fort Pulaski National Monument is located on U.S. Highway 80, 15 miles east of Savannah.
Click here for the Fort Pulaski Great Backyard Bird Count page.
Last updated: April 14, 2015