Guided Tours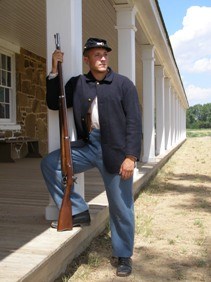 Regularly-scheduled ranger-guided tours of Fort Larned are available from May to September. Guided tours may be available the rest of the year as staffing allows. Please inquire at the visitor center when you arrive if you would like to go on a guided tour. The activity is free of charge.
Guided tours take about one hour on average, providing perspective on life at Fort Larned during the Indian Wars period, the Santa Fe Trail, and the conflict of cultures in a period of dramatic and rapid change. Visitors can tour the fort's buildings, interact with living history actors, and experience the sights, sounds, and smells of the living fort.
Guided tours for large groups are available year-round by reservation. See Fees & Reservations for information on booking a guided tour. This service and park admission are both free.
Last updated: April 10, 2015