Fort Larned Heritage Garden
Learn and Explore
Solving a Unique Problem
Like a ship at sea, 19th century frontier forts sitting in the middle of a vast sea of prairie grass, found it hard to get fresh food. Before the days of refrigeration, or even the railroad for fairly quick delivery of goods, food at Fort Larned was mostly salted beef, bread or hardtack, and beans. And like those sailing ships of old, this nutrionally poor diet led to a big problem with scurvy. It's no wonder that many of the officers and enlisted men took the trouble to plant vegetable gardens in the summer.
The experience of this year fully demonstrates that gardens may be cultivated at Fort Larned with results sufficient to warrant the labor. Assistant Surgeon A. A. Woodhull, June 1870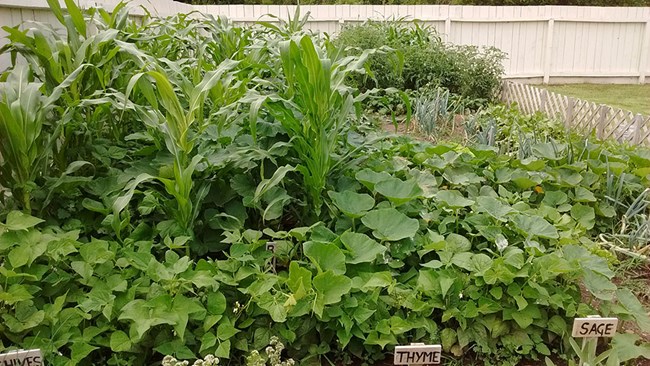 Each spring we plant historic vegetable seeds and nurture them throughout the growing season to help tell this unique aspect of frontier miliary life - the struggle for fresh vegetables. You can find the garden behind the North Officers' Quarters in a fenced area. During the summer it not only helps us tell this story, but on special event weekends visitor are encouraged to pick some vegetables and take a taste of Fort Larned home with them.
Last updated: July 3, 2018