Virtual Tour
Fort Larned's nine original sandstone buildings, built between 1866 and 1868, comprise the best-preserved fort from the Indian Wars period. The virtual tour provides a preview of the fort and some general information about these historic buildings and the people who lived here.

Click on the map to tour a building.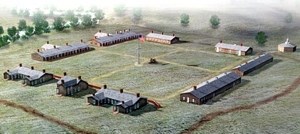 After the virtual tour, put yourself in the picture! Plan your visit to Fort Larned National Historic Site and experience the real thing!
Last updated: March 31, 2020