Richard Dodge
By the time Capt. Hart transferred from Fort Larned and turned the post command over briefly to Capt. James Snyder, activity was slowing down considerably at the post. Although only in command for a month, Capt. Snyder initiated a post beautification program by having the soldiers plant live trees in the place of torn out tree stumps around the parade field. In March Maj. Dodge arrived from Fort Lyon to take command of the post while Capt. Snyder went to Fort Hays as a court-martial witness.

Richard Irving Dodge was born in North Carolina in 1837. His father, James R. Dodge was from New York, while his mother, Susan Williams, was from North Carolina. Maj. Dodge started his military career as a West Point cadet on July 1, 1844. Upon his graduation four years later he was promoted to Brevet 2nd Lieutenant in the 8th U.S. Infantry, then headed west for over 10 years of duty on the frontier, serving on various frontier military posts in Texas from December 1848 to 1855. On March 3, 1855 he was promoted to 1st Lieutenant. On May 3, 1858 he transferred to West Point where he served as an Assistant Instructor of Infantry Tactics until November 1, 1860.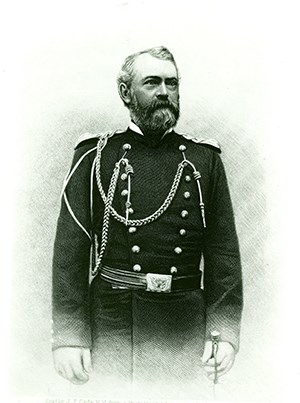 The year 1858 also saw an important event in his life: his marriage to Julia Rhinelander Paulding from New York. The two were married on March 3rd in Calvary Church in New York City. They had one son, Frederick Paulding Dodge.
When the Civil War broke out in April of 1861, Lt. Dodge was stationed at Fort Wood, NY. He chose to stay with the Union rather than resign his commission and fight for the Confederacy as many Southern born officers would do. On May 3, 1861 he was promoted to Captain, 8th Infantry. During the war he held mostly administrative posts related to recruiting and disbursement, although he did participate in the First Battle of Bull run on June 1, 1861. He was promoted to Major of the 12th U.S. Infantry on June 21, 1864 and to Brevet Lt. Col. on March 30, 1865 for "meritorious and faithful services in the recruitment of the Armies of the United States.
He continued in a recruitment and disbursement capacity in Pennsylvania and New York until February of 1867 when he was transferred back to frontier duty at Fort Sedgwick, Colorado Territory as part of the 30th U.S. Infantry. On March 15, 1869 he was transferred to the 3rd U.S. Infantry and then placed in command of Fort Lyon from October 12, 1869 until February 23, 1871. He was transferred to Fort Larned, where he assumed command on March 13, 1871.
Events at Fort Larned throughout the spring and summer of 1871 were relatively mundane matters. Such things duty changes, anticipating the prospect of a good harvest from the company gardens, or escorting a representative of the Atchison, Topeka and Santa Fe Railroad were punctuated by a few exciting incidents.
In March, around the time Maj. Dodge assumed command 41 soldiers deserted from the post. It was also around the time the paymaster arrived at the fort and might have had something to do with the fact that not only was their monthly pay reduced to $15 but they also suffered a reduction in their clothing allowance. Lt. Thompson took a squad of men out to look for the deserters but was unable to find them.
The following month a Private Mickey came on guard duty after spending time in the sutler's bar. When he talked out of turn the sergeant hit him on the side of the head with his rifle butt. He was taken to the post hospital where Surgeon Laing determined that he was indeed drunk but did not worry too much about him since he appeared lucid enough to answer questions. By the next morning, though, he was dead and an autopsy showed that he had a fractured skull.
May saw the post sutler, Henry Booth, start participating in activities that would eventually earn him bad marks for his time as the post trader. The first offense credited to him was selling liquor by the drink to both civilians and enlisted men without first getting the permission of the post commander. He would later have the commander's permission to sell alcohol between "guard mount" and "retreat."
Although mostly absent from the area for a while some Indians made an appearance in the area around Fort Larned June. They ran off 14 horses and mules from some local ranch owners who lived four miles east of Fort Larned. On the north branch of Pawnee Fork another band of Indians ran off 70 mules. Reports of a large number of Indians camped at Medicine Lodge Creek 70 miles south of Fort Larned, prompted Maj. Dodge to ask for a cavalry company to deal with the situation. He had only 97 men from the 3rd U.S. Infantry at Fort Larned, hardly a force to go after mounted Indians raiding the countryside.
Residents in the Walnut Creek area near Fort Zarah spoke with 400 Pawnee warriors traveling with women and children who said they were heading south for a meeting with Comanche. They told the residents that they lived in peace with the whites.
By July 9, 1871, Maj. Dodge had been called away to special duty in New York and command of the post passed to Captain George E. Head. He would return to frontier duty the following year to command Fort Dodge. His remaining Army career would involve a series of commands and assignments on the frontier. He would command various posts in Kansas, Nebraska and Indian Territory, as well as participate in several campaigns against the remaining plains Indians. He was promoted to Lt. Col. on March 15, 1869 and to Colonel of the 11th U.S. Infantry on June 26, 1882. Col. Dodge retired on May 19, 1891 and died on June 16, 1895.
Although it would be another seven years before the Army closed Fort Larned, by the summer of 1871 it was obvious from the Fort's rolls that the Army had very little to do in the area around the post. The appearance of Indians was now a rarity instead of a regular occurrence and events at the post were more concerned with mundane daily routines instead of chasing and fighting Indians, or escorting wagon trains.
Last updated: May 21, 2019