Jacob Smith
By June of 1877 Fort Larned's last commander, Captain Jacob H. Smith, was presiding over a garrison just 32 enlisted men. Capt. Smith came to Fort Larned with Co. D, 19th Infantry, from Fort Lyon, Colorado. The previous commander, Capt. Lyster, had been transferred to Camp Supply, Indian Territory, along with a company of solders.

Although the Army would soon be closing the fort, military life went on as usual. A porch for the hospital kitchen and new privy were approved in June. A soldier who reported to sick call complaining of paralysis in his right arm was diagnosed with lead poisoning, which he apparently got from working in a paint factory in New York before joining the Army. The post surgeon at the time, Dr. Whitehead, treated the man by prescribing Epsom salt in small daily doses, 10 grains of potassium iodide three times a day, plus time in a machine every day called "Davis & Kidders Magneto Electric Machine." This last treatment was supposed to help strengthen the tendons in his forearms.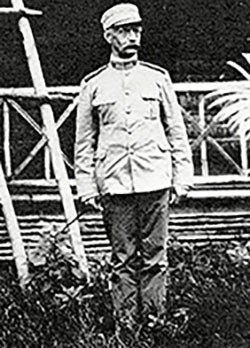 Capt. John Hurd Smith joined the Army during the Civil War on June 5, 1861 as a 1st Lieutenant in the 2nd U.S. KY Infantry. He participated in the Battle of Shiloh in 1862, publishing a history of the battle after the war. He was severely wounded in the hip and although he tried to return to active duty, the wound didn't heal properly. He mustered out of the 2nd KY on June 29, 1863, and was commissioned a captain of the Volunteer Reserve Corps on June 25, 1863 and spent the rest of the war as a mustering officer/recruiter in Louisville, Kentucky. He mustered out of the VRC on October 21, 1865. On March 7, 1867 he was both assigned as a Captain in the 13th Infantry on March 7, 1867 and received a brevet promotion to Major for gallant conduct during the Battle of Shiloh. He was promoted to temporarily to a Major in the Judge Advocate corps on May 25, 1869, both of which were both later revoked on December 10 of that same year. He was assigned to the 19th Infantry on December 15, 1870.
Pawnee County continued to attract settlers, and was fast becoming one of the most productive farming areas in central Kansas. Of course, the ability of citizens to settle in the area and grow bumper crops of grain and livestock were due to the Army's presence at posts like Fort Larned. And the fact that the people in the Pawnee Valley area and other areas of central Kansas could build their new lives without fear of Indian attack signaled the end of Fort Larned's usefulness as a military post. The Santa Fe Trail had now been eclipsed by the Atchison, Topeka and Santa Fe Railroad, removing yet another reason for the fort's existence.
By November of 1877, Assistant Surgeon Whitehead was ordered to New York City to appear before an Army medical board for an examination to raise his rank to Surgeon. Dr. F. H. Atkins from Camp Supply came to fill in for him. However, he had to return to Camp Supply at the end of the year a witness in a general court martial, leaving the post without medical for a while. Atkins returned to Camp Supply for good in January 1878 when Acting Assistant Surgeon M. O'Brien replaced him.
Capt. Smith condemned some of the post's hospital property, which hadn't been used in some time, so it could be sold to civilians and hauled off the property. An order dated December 6, 1877 directed that buildings at Fort Larned could be sold at public auction, after the Army property in them had been moved to another post.
In February 1878 several mild cases of scarlet fever were diagnosed at Fort Larned, including Surgeon O'Brien's daughter. Some new recruits for Company D, 19th Infantry also arrived at the fort during February. In April, First Sergeant A. Berman, D Company, 4th Cavalry came to Fort Larned on his way back to Camp Supply from a furlough to take custody of Private Thomas Radcliffe, who had gone AWOL from Camp Supply and had been apprehended at Fort Larned.
Soldiers began playing baseball at Fort Larned in the Spring of 1878. Although the players suffered from a multitude of injuries, the pastime still raised morale at the post. Small pox also became a medical concern in June after reports of cattle on a train shipment had been diagnosed with the illness. All military and civilian personnel were vaccinated or questioned as to when or if they had been treated for the disease.
On June 29, Capt. Smith received orders from the Department of the Missouri, directing him to discontinue Fort Larned as an active military post. All the public property at the post was to be sent to Fort Dodge, while the all troops at the post were sent to Fort Hays to relieve a company of the 16th Infantry. The troops received their last pay as members of the Fort Larned garrison in July, 1878, after which the soldiers left the fort for good.
After leaving Fort Larned, Capt. Smith was promoted to Major in the 2nd U.S. Infantry on November 26, 1894, to Lt. Col. of the 12th U.S. Infantry on October 20, 1899. He was sent to the Philippines during the Philippine-American war. In December of 1899 he told reporters that the Philippine natives were "worse than fighting Indians" and that he had already adopted appropriate tactics he had learned fighting "savages" during the Indian Wars. The Civilian Governor of the Philippines, William Howard Taft, promoted Smith to Brig. Gen. of volunteers on June 1, 1900 with the expectation that he would soon retire, which Smith did not do.
Smith was later court martialed for issuing on order on the Island of Samar, which lead to the deaths of thousands of Philippine civilians. The order was retaliation for the death of 51 soldiers of Co. C, 9th U.S. Infantry, who were killed in a surprise attack by Philippine guerillas. Smith told the commander of a Marine battalion under his command, that "I want no prisoners. I wish you to kill and burn, the more you kill and burn the better it will please me. I want all persons killed who are capable of bearing arms in actual hostilities against the United States." When the commander, Major Littleton Waller, asked for clarification on the age limit for those who would be killed, Smith told him "Ten years." The ensuing indiscriminate attacks on Philippine civilians earned Gen. Smith the nickname "Howling Wilderness Smith".
Although the Judge Advocate General of the Army determined that the only thing that kept the U.S. troops from instituting a complete "reign of terror" was the good sense and restraint of the majority of Smith's subordinates, the Army's actions were still enough to anger U.S. anti-Imperialists group. Smith was court-martialed for his orders on Samar, although he was not tried for murder or any "war crimes" - the charge was "conduct to the prejudice of good order and military discipline." Smith was found guilty and sentenced to be "admonished by the reviewing authority."
Smith retired to Portsmouth, Ohio on July 16, 1902 and did some traveling around the world. He tried to volunteer for service in World War I but was refused, partly due to his advanced age, and partly to his tarnished reputation for his actions in the Philippines. He died on March 1, 1918 in San Diego.
Fort Larned was an active military for 19 years, but it saw much change in those short years of service. When the post was first established in 1859, central Kansas was a dangerous frontier filled with Plains Indians and travel on the Santa Fe Trail was often a perilous undertaking. By the time the soldiers left Fort Larned in 1878, the Indians had been moved off to reservations, the railroad had replaced the Santa Fe Trail, and the town of Larned was a growing, prosperous community.
Last updated: May 22, 2019