George Hume Steuart
George Hume Steuart was born August 24, 1828 in Baltimore, MD. He was always fiercely loyal to his native Maryland. He entered the US Military Academy at West Point on July 1, 1844. He graduated 37th in his class in July 1848 and was given a commission as a brevet 2nd lieutenant in the 2nd US Dragoons. He was promoted to 2nd lieutenant of the same unit in November 1849.

Steuart was heavily involved in post-Mexican War Indian campaigns in Texas. He served at various forts until he was promoted to 1st lieutenant on March 3, 1855 and transferred to the 1st US Cavalry. He was made captain on December 20, 1855. Subsequently, he was involved in several western expeditions. First, he was dispatched against the Cheyenne in 1856 and from 1857-1858, he was on expedition in Utah against the Mormons. Afterwards, he was sent to Fort Riley with Company K, 1st Cavalry. On October 7, 1859 Steuart departed for the relief of Lieutenant Long's company.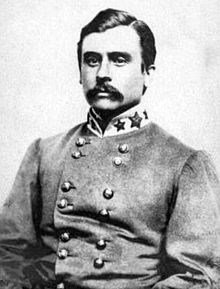 Steuart's service at Camp on Pawnee Fork did not last long. On November 21, 1859, he received from orders Department Headquarters, Fort Leavenworth, to return and leave 30 men at the camp under the command of 1st Lt. David Bell. Steuart transferred command to Lieutenant Bell on November 26, 1859 and left for the Comanche expedition of 1860.
The rest of Steuart's military career is very well documented. When the South seceded from the Union, the State of Maryland was not allowed to join the Confederacy. Steuart was solidly loyal to his home state and believed it should have been allowed to secede. He resigned his commission on April 22, 1861 and, along with many other Marylanders, crossed the border into Virginia and joined the Confederate Army. He was commissioned a captain of cavalry. In May, the 1st Maryland Infantry was formed and Steuart was named its lieutenant colonel. At the First Battle of Bull Run (First Manassas), Steuart served with distinction and was promoted to colonel and regimental commander. Soldiers referred to him as "Maryland" to distinguish him from Maj. General J.E.B. Stuart.
George Steuart was promoted to Brigadier General in March 1862 and commanded three Virginia regiments with the 1st Maryland. He was wounded at Cross Keys on June 8, 1862 and returned to command almost a year later in May 1863. He was involved in the Battles of Gettysburg, the Wilderness, and Spotsylvania, where he was captured. He is famous for refusing to shake Winfield S. Hancock's hand after capture. Steuart was exchanged in 1864. He participated in several more campaigns and finally, was present at the surrender and parole of the Army of Northern Virginia at Appomattox Courthouse. After the surrender, Steuart returned to Maryland to take up farming. He died at age 75 on November 22, 1903. He is buried in Baltimore's Green Mount Cemetery along with several other Confederate generals and John Wilkes Booth.
Last updated: May 28, 2020