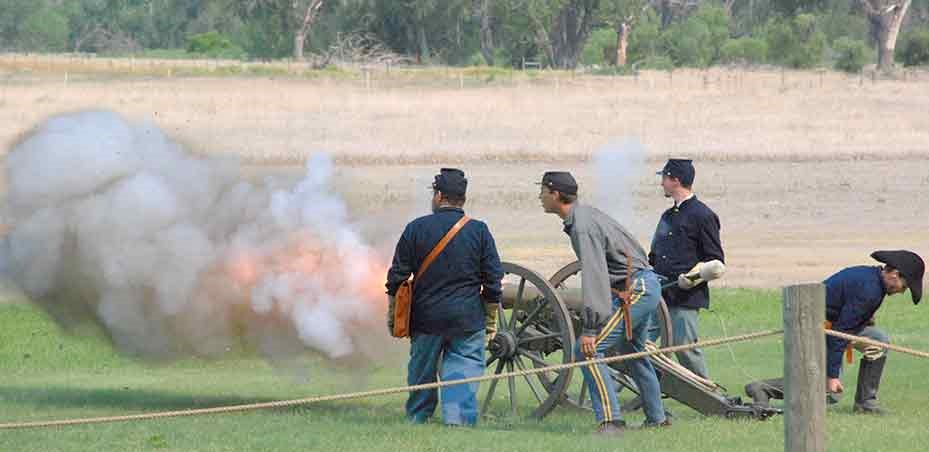 Please follow these safety precautions while visiting Fort Laramie National Historic Site
Trails
Occasionally rattlesnakes and bull snakes are seen along the trails and buildings during the warm season. Along the North Platte and Laramie rivers there is a nature trail one and a half miles in length. There are no facilities along the trail. Hikers should stay away from the rivers banks as they may be unstable due to undercutting and could collapse unexpectedly dropping into the river. The Laramie and Platte rivers have very shallow, sandy bottoms and deep, unseen holes. Swimming is not allowed around the historic district of the Fort grounds.
Livestock
Visitors should keep a safe distance from the horses and mules.They are trained for demonstrations and may be spooked by your sudden presence or angle of approach. Remember that rabbits, snakes, skunks, and wild cats are not pets and should be left alone.
Weather Conditions
Summers can be very hot and winters extremely cold. Temperatures can reach extreme highs and lows so take proper precautions. Plan to wear clothing appropriate for that season. Sun screen is recommended as summer temperatures can reach the high 90's or low 100's with blue, cloudless bright skies. Thunderstorms and hailstorms are possible in the summer and early fall. Be prepared to take cover as weather conditions become violent. In the event of a tornado, Fort Laramie staff will direct you to designated safety zones. Four drinking fountains are located at the park. Locations are: the Visitor Center and the restroom hallway in the Cavalry Barracks, where bottled water and juice drinks may be purchased from vending machines. Outside fountains are located in front of the Cavalry Barracks and the Commanding Officer's Quarters, but are turned off from October to April because of freezing weather conditions .
Prevent slips, trips, and falls
Due to uneven pathways and trails located in close proximity to the rivers, running is not advised and children should always be under direct adult supervision. Please do not stand, walk, or sit on foundations or ruins, which are irreplaceable.
During cold weather months, be aware of ice buildup on wooden stairs and steps. Use handrails leading into and exiting buildings. Ice can also form on sidewalks, pathways and the parking lot. Walk very cautiously during these slick conditions.
Black Powder Demonstration
During black powder weapons demonstrations, please follow all warnings and instructions by park staff.