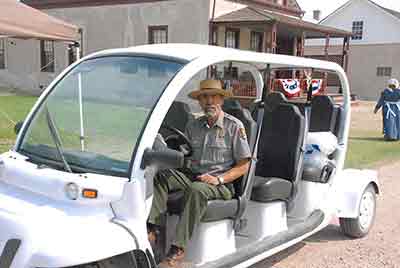 Fort Laramie NHS is continually working to improve access to the site so that everyone can experience this unique landscape. If you have special needs or particular questions, please contact a staff member, or e-mail us.
Electric Cart Accessibility Tours
The staff at Fort Laramie National Historic Site offers electric cart tours for mobility challenged visitors. Arrangements can be made ahead of time by calling park headquarters at 307-837-2221 ext. 0 or at the park Visitor Center.
Arrangements can be made ahead of time by calling park headquarters at 307-837-2221 ext. 0.
It should be noted that each vehicle holds a limited number of passengers, and non-impaired friends or relatives may be required to walk. Also, this service, while free of charge, is operated depending
on staff availability.
Wheelchair Loan
The park has two wheelchairs that are available for visitors to use on a first-come, first served basis. There is no charge to borrow a wheelchair, and arrangements and pickup can be made in the Visitor Center.
Accessible Historic Structures
The historic structures at Fort Laramie are more than a century old and accessibility is not always ideal. However, we are constantly improving visitor access. Most of the structures have accessibility ramps that allow access to the lower sections of the structures. A photograph book or tablet virtual tour are available at the Visitor Center to allow visitors to see the furnishings in upper floors of the historic structures.
Restrooms
Accessible restrooms are located on the 1874 Cavalry Barracks. The restroom entrance may be found approximately half way down the veranda.
Assistive Listening Devices
Assistive listening devices are available for the 18 minute park audio visual program. Both stand-alone and hearing aid compatible devices are available. If you require such a device, please let the ranger at the information desk know prior to the start of the program.
Braille Brochure Available
For sight impaired visitors , there is a Braille version of the park brochure available, by request, at the Visitor Center. For download in a Braille ready format, please click below.
Fort Laramie Braille Brochure. BRF file
Please note that this Braille Ready File (brf) will not open without special software. Many Braille readers have computer equipment that will reproduce or read the brf on their computer screen.