Photos & Multimedia
In 2005, a new park film for Fort Frederica National Monument was produced. It is shown in the park's visitor center every 30 minutes from 9:00 am to 4:30 pm. It has closed captioning and audio description.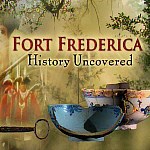 Fort Frederica History Uncovered

Click here to preview our park film:
"Fort Frederica: History Uncovered"
Movie Trailer provided by Marc & Doris Cramer.
Click here to visit our association's bookstore where a DVD of entire film can be purchased.


Last updated: April 14, 2015