Date:
February 26, 2007
Contact:
Jon Burpee
, 912-638-3638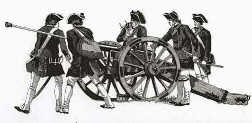 The National Park Service is pleased to announce the details of new volunteer opportunities at Fort Frederica National Monument. The park is recruiting select volunteers to portray soldiers of the British 42nd Regiment of Foot and present historic weapons demonstrations to visitors from around the world. Interested volunteers must be able to complete training that will emphasize participant and visitor safety, proper drill and the history of Fort Frederica. Successful volunteers will be required to routinely commit four hours of volunteer time per month for drilling and presentations. Fort Frederica will provide appropriate period clothing.
The program is made possible by the purchase of a reproduction British 3-pounder. Funding for the cannon and its accoutrements was made possible through visitor entrance fees.
According to park ranger Jon Burpee the cannon will be useful in drawing visitors into Frederica's past. "It is a unique tool to illustrate the history of struggle between the British and Spanish for control of the southeast coast in the early 18th century." The goal is to offer cannon demonstrations once a month including a few firings at special events. The cannon demonstrations join park programs that demonstrate musket firing and living history programs at the Bloody Marsh unit of the park.
For further information about this event and the expanding number of programs at Fort Frederica National Monument visitors may contact the park VisitorCenter at 912-638-3639.

Background: Fort Frederica National Monument is one of America's national parks. Established in 1936 and dedicated in 1947, the park preserves the incredibly rich archaeological remains of one of Great Britain's strongest forts in the colony of Georgia. It was on St. Simons Island in 1742 that British troops from Frederica and Darien decisively defeated Spanish Floridians in the Battles of Gully Hole Creek and Bloody Marsh. Ironically, the very battles that saved Frederica from destruction by the Spanish doomed the town and fort to ruins. Without a Spanish threat, Britain pulled Frederica's soldiers out of the fort and the settlers left as the town's economy suffered. All but abandoned, the town of Frederica slipped into history. Time has worn down the earthworks protecting the town, yet the ruins and foundations of the buildings remain as a visual reminder of the struggle for empire on Georgia's coast. Today, the National Park Service, with assistance of the Fort Frederica Association and volunteers, preserve these symbols of our colonial past and share them with visitors from around the world.