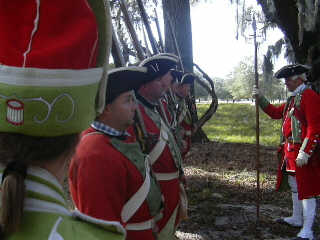 News Release Date:
May 8, 2009
Contact: Kim Coons, 912-638-3639
Superintendent Mary Beth Wester is pleased to announce the details of an upcoming program designed to highlight the history of this British fort and town. On Saturday, May 16, at 2:00 p.m., a program entitled "The Life of a Soldier," will feature a special tour of the town and fort of Frederica. A National Park Ranger will lead visitors to the special places where soldiers did their duties and lived. Visitors will learn of the difficult life of a soldier and the toilsome work of defending the British colony of Georgia against the Spaniards.
The soldiers of the 42nd Regiment of Foot were stationed at Fort Frederica from 1738-1749. Coming from Gibraltar and England, the soldiers manned the forts up and down the coast that were headquartered at Fort Frederica. Far from home, their adventures included numerous scrapes with the Spanish leading to a losing siege of St. Augustine, FL in 1740. On St. Simons Island the soldiers helped defeat a Spanish invasion two years later. Through it all, their sacrifice and duty left an indelible mark on the history of the region.
The tour includes interactive activities and a musket firing.
Admission fees will be charged for this program.