"Sunset on the Fort": Saturday Nights July 12th to August 9th
Date:
July 8, 2008
Contact:
Jon Burpee
, 912-638-3639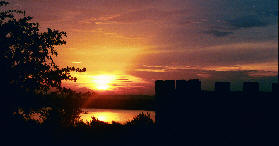 The National Park Service at Fort Frederica National Monument is pleased to announce the details of several upcoming programs designed to highlight the history and decline of this British fort and town. Beginning on Saturday, July 12th, the park will remain open until sunset on Saturdays through August 9th. The ranger program will begin at 8:15 pm. A program entitled "Sunset on the Fort" will allow visitors a chance to see the golden sun set upon the marshes at the fort and learn about the site's history. In particular, the programs will focus on the declining years of Frederica, following the battles between the British and Spanish for control of the region.
According to park ranger Jon Burpee, "The last few years of Frederica Town's existence is full of difficult decisions, heartbreak and broken dreams. Faced with harsh economic realities, the settlers abandoned Frederica reluctantly. This program will focus on those years – the sunset of Frederica Town."
Admission fees will be charged for this program. Visitors are encouraged to bring a blanket to sit on during the talk.
For further information about this event and the expanding number of programs at Fort Frederica National Monument visitors may contact the park Visitor Center at 912 638-3639.
Last updated: April 14, 2015